The Ensemble Theatre's Act One Young Professionals Present 2nd Annual Drama-try[Tree]: A Dramatic Night of Poetry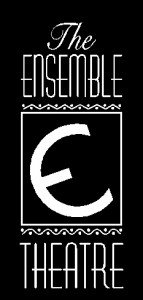 The Ensemble Theatre's Act One Young Professionals celebrate National Poetry Month with their 2nd Annual poetry event entitled: Drama-try[Tree]: A Dramatic Night of Poetry, Saturday, April 27, 2013, 7:00 p.m. in the theatre's Performance Centre space.
Mayor Annise Parker's recent city initiative to find Houston's first Poet Laureate is creating buzz on all poetry platforms. Performance poetry sets can be found drawing audiences all over the city including, clubs, coffee houses, arts venues, and university campuses. The range of experience spans from novice to seasoned poets. Some of them even working as educators with literacy and writing programs or using their talents to support other community causes.
The showcase at The Ensemble Theatre features both experienced and rising artists on the Houston Area poetry scene. Their individual styles of performance poetry will allow audiences to experience the dramatics of spoken word art.
"Houston continues to attract a growing population of chic and savvy young professionals who are very astute when it comes to the arts and community involvement," says Pam Ulmer, Act One Chair. "We hope to create a synergy between artists, young professionals, and The Ensemble Theatre, especially since Midtown is now a state designated Cultural Arts and Entertainment District."
Drama-try: A Dramatic Night of Poetry
The Ensemble Theatre – Performance Centre
3535 Main St. (Fannin and Berry St. Entrance)
Saturday, April 27, 2013, 7:00PM
Tickets Available Online: http://EnsembleHouston.com/ActOne/index.html
713-520-0055
Drama-try Host for the evening is Joseph "Joe P" Palmore, Clark Atlanta University alumni and local poet and actor gaining recognition for his talent, creativity, and community involvement. He is a five-year veteran actor with The Ensemble Theatre where he recently held one of the lead roles as Malcolm King in Broke-ology. He can also be found hosting poetry nights at Bambou with Se7en the Poet in Rice Village.
Featured poets for the evening:
BlackBlues (Vincent Johnson) is a rising poet, writer, director and actor who was a member of the Houston poetry slam teams from 2007-2012. He worked as assistant director for the stage play Karma by JalaWorld Productions in 2010, and continues to pursue other opportunities in theatre.
Jem the Poet (Jamie Harrison Marshall) is an award winning poet who has been performing since the age of three and was inspired by Langston Hughes. She attended the University of Houston where she was also involved in drama, and later appearing in plays such as For Colored Girls Who Have Consider Suicide When the Rainbow Is Enuf, Little Shop of Horrors, and The Women of the Bible – Choices: Which Road Will You Choose. She has performed at the Essence Festival, Cancer and Aids benefits, and won the award for "Last Poet Standing" in 2009.
Outspoken Bean (Emmanuel Bean) is a Prairie View A&M alumni who helped found an coach the university's first poetry slam team that ultimately ranked 8th in the country. He is an educator and a Texas Poet Laureate nominee. Currently he serves as program director and lead coach for Meta-Four Houston, a non-profit organization that uses reading, creative writing, poetry and performance techniques to promote literacy and critical thinking skills among youth.
Kayenne Nebula (Mia Kayenne DeSilva) a New Orleans native has been writing poetry and music for over 17 years. She is founder of the Spice Project, an underground artist resource and community involvement organization that was recognized by the U.S. Congress in 2012. She has opened for artists Lorenz Tate, Black Ice, and Sunni Patterson. She also spends time working with the Arts Advocate and donating her time and art to non-profits like Toiletries For Families, The AIDS Foundation and Poetry with a Purpose.
Drama-try host committee members: Donna Anderson; Tim Armstrong; Samson Babalola; GoGo Business Communication; Cathy Coleman; Andrea Browne; Terrence Blackshire; Tracy Guillory; Veronica Lewis; Wendy Lewis-Armstrong; Michelle Levi; Crystal Washington; Carl McGowan; Mark Martin; Henry Mosley; Kevin Plowden; Angela Randolph; Robert Ross; Mignon Smith; Renata and Tracy Taylor; and Pamela Ulmer.
Act One was created to unite The Ensemble Theatre's growing community of young artists and professionals with an increasing interest in how they can contribute to sustaining the institution. Act One members are recognized as the next generation of leaders who will support the theatre's annual membership campaign and ultimately develop into volunteers and fundraising supporters.
The Ensemble Theatre was founded in 1976 by the late George Hawkins to preserve African American artistic expression and to enlighten, entertain, and enrich a diverse community. Thirty-six years later, the theatre has evolved from a small touring company to one of Houston's finest historical cultural institutions.
The Ensemble is one of a few professional theatres in the region dedicated to the production of works portraying the African American experience. The oldest and largest professional African American theatre in the Southwest, it holds the distinction of being one of the nation's largest African American theatres owning and operating its facility and producing in-house. Board President Emeritus Audrey Lawson led the capital campaign for The Ensemble's $4.5 million building renovations that concluded in 1997. The Ensemble Theatre has fulfilled and surpassed the vision of its founder and continues to expand and create innovative programs to bring African American theatre to a myriad of audiences.