Annual Women's Empowerment Conference Makes Her Story for Houston Women with Launch Her 2013
Style Magazine Newswire | 4/11/2013, 11:28 a.m. | Updated on 4/11/2013, 11:28 a.m.
The Annual Women's Empowerment Conference (AWEC) will host Launch Her 2013 on Saturday, May 18, 2013, from 9 a.m. to 2 p.m. at the prestigious Houstonian Hotel. This highly interactive event will create a vehicle for women to reach their fullest potential in both business and their daily lives; while building and cultivating their personal brand.
Throughout the event, Founder Shantera Chatman and LifeStyle Designer DaRhonda Williams will facilitate exercises, administer group coaching, and participate in expert panels as they focus on connection, accountability, and development. Conference Sponsor and Houston's Voice content partner, Houston Style Magazine is honored to have National Entertainment Reporter Rebecca Briscoe as part of the distinguished panel.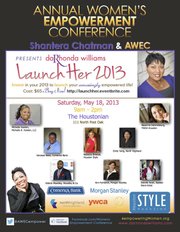 The Launch Her 2013 panelists are a diverse group of local experts and business leaders whose experiences will continuously drive home the message of launching into a new beginning. Other panelists include: Vanessa Reed, Asst. Vice President and South Texas CRA Manager for Comerica Bank, Ann Williams, CPA, Emily Yang, Vice President North Highland Company, Rayanne Darensbourg, Executive Director, YWCA Houston, Michelle Harden, Owner, Kingdom View Talk Show, and Kim Fontenot, Financial Advisor, Morgan Stanley. In addition to Houston Style Magazine, sponsors also include: Comerica Bank, North Highland Company, Morgan Stanley, and Promed Rx Pharmacy.
"Launch Her 2013 is a great opportunity for women to network with like-minded leaders in the community. They are going to have a great time. This event was created with women in mind and that's what is going to make it a success," says Shantera Chatman, Founder and Executive Director. For additional information, contact Rebecca Briscoe at briscoerbrs@aol.com or Shantera Chatman at info@4empoweringwomen.org. To register for the event, visit launchher.eventbrite.com.
About Annual Women's Empowerment Conference
AWEC is a non-profit organization geared toward the betterment of women both professionally and personally. This organization aims to provide programming that "Let's the Real YOU Shine Through!" AWEC is a different type of experience that helps women network better, live better, and feel better. The mission of the AWEC is to empower and equip women of all ages and backgrounds with the tools needed to achieve their personal and professional goals. To learn more about AWEC, visit 4empoweringwomen.org.

About Houston Style Magazine
As the second largest audited-circulation African-American weekly newspaper in Texas, Houston Style Magazine keeps thousands of readers informed on the latest news, entertainment, videos, events, reviews, and health & beauty tips. The publication is available online as well as weekly in print. To view its features, visit http://stylemagazine.com/. Houston Style Magazine's Houston's Voice channel can be view here.