2013 Lexus GS 450h
Frank S. Washington | 4/15/2013, 5:19 p.m. | Updated on 4/15/2013, 5:19 p.m.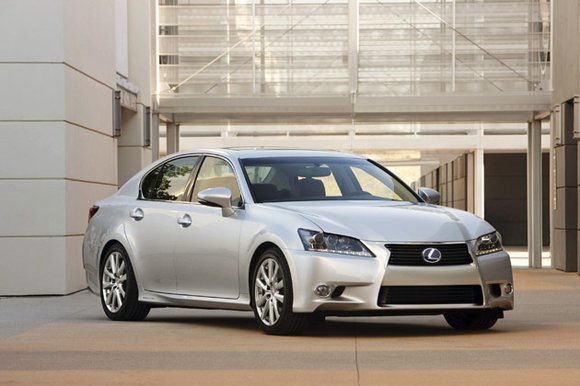 I could start this review by telling you about the powerplant of the 2013 Lexus GS 450h. In fact, I think I will.
Under the hood, the hybrid features an Atkinson 3.5-liter V6 mated to a high output, water cooled permanent magnet electric motor powered by a high performance nickel-metal hydride battery pack.
Together, they generate 383 horsepower. TheV6 made 254 pound-feet of torque. How much torque an electric motor makes is always difficult to calculate into pound-feet but that electric torque power gets to the pavement almost instantly.
That's what made the Lexus GS 450h subtly smooth and quick. The car could get from a standstill to 60 mph in a brief 5.6 seconds. For a luxury sedan that weighed a bit more than two tons, that was fast.
The sedan had five drive modes. There was normal. The Eco mode revised throttle mapping, seat heating and the climate controls for better fuel economy. In the normal drive mode the GS 450h got 29 mpg in the city and 34 mpg on the highway.
EV (electric vehicle) mode does exactly what it says. The Lexus GS 450h can run for short distances using only its electric motor.
The Sport S mode changed throttle mapping and transmission shifting to maximize the powertrain. While the Sport S+ mode, as Lexus put it, "engages handling enhancements via a sport setting of the adaptive variable suspension, steering system, and Vehicle Dynamic Integrated Management (VDIM) together with the powertrain enhancements of SPORT S mode."
There's an awful lot of computer power at work with Lexus GS 450h's powertrain. By that I mean that the GS 450h had a continuously variable transmission, like most hybrids. Thus, the transmission had been program to respond like it had conventional gears. And Lexus engineers did an admirable job on two levels.
On one, I couldn't tell that the transmission was a CVT. It was wintry here when I test drove the luxury sedan, thus there wasn't any opportunity to put the pedal to the metal. Under normal driving, the transmission responded like any other buttery smooth gear box from Lexus.
My second point is that the CVT was quiet, really quiet. Silent running is a hallmark of Lexus and the 2013 Lexus GS 450h lives up to the tradition, despite its CVT. I can't image the amount of engineering it took to tamp done the drone of the CVT and the amount of soundproofing necessary to quiet the running noise that was left.
But the same snow that kept me from really pushing the GS 450h's transmission, it was equipped with paddle shifters, also illuminated the car's Achilles heel. The sedan was rear-wheel-drive and during my test drive it snowed, heavy wet snow.
And in that kind of weather driving any rear-wheel-drive car, even with traction control, can be treacherous. Several times, after the snow started coming down, I was on the way home and when I stopped at an intersection the car got stuck because of the low revolution wheel spin of the GS 450h which restarts and gets underway in electric mode. It was nothing serious, if you know what you're doing. Just back up a couple of feet and get a slow rolling start. But driving like that is dangerous and it takes twice as long to get to your destination.