Spring Into the Season With These Tips and Tricks
Family Features | 4/18/2013, 2:54 p.m. | Updated on 4/18/2013, 2:54 p.m.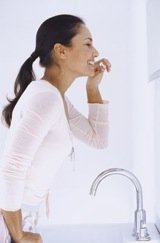 Spring has sprung! And you know what that means? It's time for spring-cleaning. Before you worry about all that needs to be done, take a look at these tips and tricks to make spring-cleaning stress-free and easy.
Keep it Simple: Start by creating a list of everything you want to accomplish before you start your cleaning. Hang it somewhere visible so you can check off items as they are complete. This will help you stay focused and on task. You will be finished before you know it!
Freshen Up Your Smile: You need to replace your toothbrush every three months, and spring-cleaning is the perfect time to trade up your old toothbrush for an ARM & HAMMER™ Spinbrush™ ProClean™ battery-powered toothbrush. This toothbrush removes up to 70% more plaque in hard to reach places (versus a manual toothbrush). The Dual Action head technology features a circular Oscillating Head that spins back and forth to thoroughly clean and polish, even between teeth. With brand new orange packaging, ARM & HAMMER™ Spinbrush™ ProClean™ is easy to spot on shelves.
Organize Your Closets: Organizing closets are a great first step when looking to organize the rest of your home. Make sure to get rid of any unused clothes and accessories so they are not taking up space. Organizing your clothing closets by color will make it easier for you to find what you are looking for, and will help make your closet look more appealing.
Embrace the Warm Weather: Now is the perfect time to get your backyard ready for outdoor entertaining. Remove all the patio and outdoor furniture you have been hiding from the winter months and clean it off. Don't forget to do some landscaping repairs and give your lawn and plants some TLC. Your backyard will be ready for entertaining in no time.
Clean Out The Refrigerator: Cleaning out your refrigerator may seem like an impossible task but if you break it down, you will have a refrigerator that looks as good as new. First, make sure to wipe up spills as they happen so the surface does not become stained, and make it a habit to throw out old food every week. While spring-cleaning, wash the interior including removable shelves and drawers. You can loosen hardened spills by using two tablespoons of baking soda for every quart of warm water.
The next time you begin to worry about spring-cleaning, take a deep breath and remember these simple tips. They will leave your house fresh and clean so you have plenty of time to step outside and enjoy the season.
To learn more, visit www.spinbrush.com.