From frostbite to diabetes ulcers: Hyperbaric oxygen therapy at MSLH's Advanced Wound Care Clinic offers hope
Style Magazine Newswire | 4/25/2013, 2:51 p.m. | Updated on 4/25/2013, 2:51 p.m.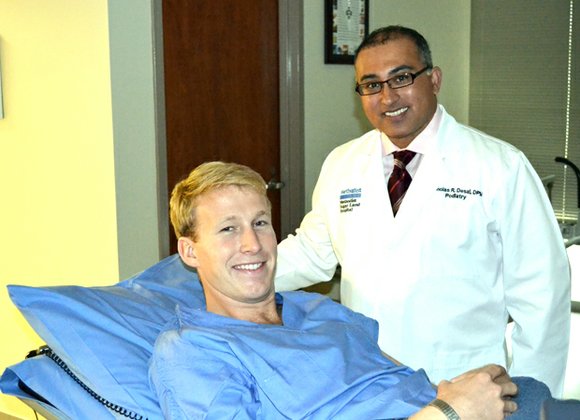 Peter Fenelon of Sugar Land traveled more than 8,000 miles for the adventure of a lifetime. But when his trip was cut short due to a medical emergency, he found the specialized care he needed right in his home town, thanks to Dr. Nicholas Desai and the Advanced Wound Care Clinic at Methodist Sugar Land Hospital.
In December 2012, Fenelon celebrated his graduation from the University of Texas by heading to Nepal with three college buddies for a 15-day hike around the Annapurna Mountains near Kathmandu. Though the first few days of the once-in-a-lifetime trip went well, blizzard conditions eventually forced the quartet to make a slow, difficult leg of the hike through thick snow at high altitudes. What was supposed to be an eight-hour trek took 15 hours in freezing temperatures.
After crossing the Throng La mountain pass, the group rested for the evening. But when Fenelon removed his boots and socks, he realized he was in trouble. His feet were severely swollen, and a guide immediately recognized signs of frostbite.
"I honestly thought that the main issue was that my feet were very swollen from all the walking," Fenelon says. The guide, however, convinced him that he needed medical care, and called for a medivac helicopter to take Fenelon and another hiker with a milder case of frostbite to the hospital.
Fenelon spent four days in a nearby hospital receiving treatment when a doctor told him he had to go home to receive additional treatment because he could not continue traveling. But, he warned, it was possible that he would eventually have to have all of his toes amputated.
After a painful, 30-hour flight home, Fenelon began seeing Dr. Desai at Methodist Sugar Land Hospital's Advanced Wound Care Clinic. Dr. Desai put the young patient on a rigorous treatment plan that included twice-a-day hyperbaric oxygen therapy sessions of two hours each.
In hyperbaric oxygen therapy, patients are enclosed in a specially designed, pressurized chamber where they breathe 100 percent oxygen. "Breathing pure oxygen under pressure increases the amount of oxygen in the bloodstream, where it is delivered to damaged tissues," says Dr. Desai. "The increased oxygen flow speeds up the growth of new blood vessels and collagen, both of which are necessary for healing. The therapy can actually preserve tissue that otherwise would die."

The hyperbaric oxygen therapy led by Dr. Desai and the Advanced Wound Care Clinic's team of physicians saved Fenelon's feet. "Over four weeks, I watched my toes progress slowly from a dark blue, very scary color to pink and red and even flesh colors," Fenelon says. "I have been absolutely thrilled with my progress."
Fenelon's injuries still required the amputation of his big toe and a portion of the little toe on his left foot. But the alternative was far worse.
"There are tremendous social and psychological costs to losing a limb," says Dr. Desai. "And there is a financial cost, as well. The typical diabetic amputation requires 24 months of ongoing treatment and costs approximately $60,000. We can treat a patient in two weeks and save the limb if the patient presents to us in time. We have seen some remarkable results occur very quickly and very efficiently."