Sarcoidosis: Not a Laughing Matter
Jo-Carolyn Goode | 4/25/2013, 12:55 p.m. | Updated on 4/25/2013, 12:55 p.m.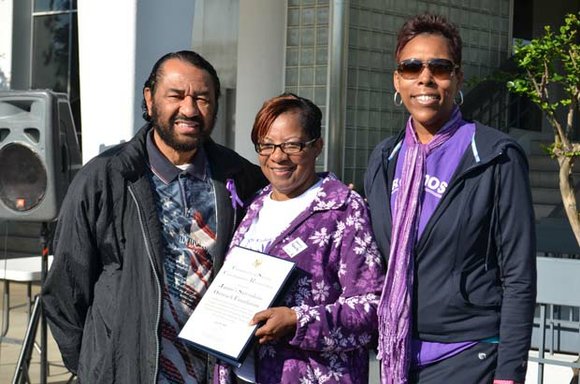 Sarcoidosis is a funny sounding word but it is by no way a laughing matter. King of Comedy legend Bernie Mac knew the pains of Sarcoidosis. For years the comedian suffered from the disease while still making America laugh. Mac passed away from Sarcoidosis five years ago and in doing so raised awareness about this relatively unknown disease. With increased awareness comes more recognition; April is now Sarcoidosis Awareness Month.

According to Dr. Nabeel Hamzeh, pulmonologist at National Jewish Health in Denver, CO, who was on hand at the Houston Sarcoidosis Walk, "Sarcoidosis is a disease where your immune system is over activated." He continued saying, "Your immune cells, the white cells, start to clump up to form these balls of inflamed cells and infiltrate different organs and cause problems. The most common organ involved is the lungs." Signs and symptoms can vary from none at all to shortness of breath, a cough that doesn't go away or fatigue. Dr. Hamzeh says it just depends on what body part is affected. Good news is Sarcoidosis can be managed, controlled and even reversed with proper care from a doctor and good medicine. Having a slight predominance in women, Sarcoidosis is more common in African Americans.
Emma Caroll's daughter, Foyia Janine Carroll-Grant, was just thirty-one years old when she was officially diagnosed with Sarcoidosis. Nine days after her diagnosis, Janine died needing a double lung and heart transplant. A shocked and devastated Carroll went searching for information about this disease that took her precious daughter's life but found none. "There were more questions than answers. It was placed on my heart to do an outreach, to find credible information, and past it on to others," said a passionate Carroll. Turning her grief into motivation for a cure and answers, she founded the Janine Sarcoidosis Outreach Foundation (JSOF) and established the Sarcoidosis Walk. With the walk in its ninth year, many more people are educated about Sarcoidosis, are aware of the disease, and more research is being done due to the promotion of the walk. That is exactly Carroll's goal. "With Sarcoidosis not being very well known funding is very limited for us," said Carroll, who through JSOF provides Sarcoidosis brochures to patients and transportation. JSOF also hosts monthly support meetings at the West Houston Medical Center. The public can help JSOF by donating on their website at www.jsof.org or calling (832) 248-6621.
Like Carroll, Rhonda McCullough, Bernie Mac's widow, knows the pain of watching a loved one suffer with Sarcoidosis. She offers this advice for caregivers, "Always be kind to them and listen to them." Noting that they may look good on the outside but feel terrible on the inside, "So always be conscience and considerate of how they might feel." Rhonda and Bernie were high school sweethearts so the couple had been together for many years. "I think I knew a lot about him already because we had been together so long," said Rhonda. However, watching him with Sarcoidosis taught her about his strength. "One thing I really learned about him was how strong he was and how he didn't let anything get him down in anyway. He would say 'I am going to beat this.'"
Before his death, Bernie established the Bernie Mac Foundation and Rhonda has kept it going as a way to honor her late husband. She is proud of the accomplishments of the foundation. One that she is most fond of is the opening of the Bernie Mac Sarcoidosis Translational Advanced Research Clinic at the University of Illinois Health & Science System that opened on Bernie's birthday, October 5, 2012. Find out more information about the Bernie Mac Foundation at www.berniemacfoundation.org.