Travel the World with A Few Dishes
Yolanda Pope | 4/25/2013, 12:33 p.m. | Updated on 4/25/2013, 12:33 p.m.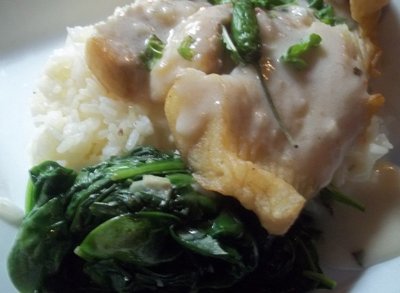 Greetings Style family! When it comes to food, how often have you stepped out of your comfort zone to try a dish from a different region of our world? Fortunately, because we live in Houston, we don't have to travel far to have such an experience. Moreover, Chef Alberto Alfonzo of Pesca World Seafood Restaurant has travelled extensively, and has created an eclectic menu of palate pleasing appetizers, entrees, and desserts that I feel many would enjoy.
During a recent visit, Chef Alberto showed off his culinary talents by preparing a medley of mouthwatering dishes. I'll start with my favorite appetizer, the "Beef Empanadas", the main ingredients are beef and potatoes; they are served with a side of avocado chimichurri sauce. The crust was light and crispy, the beef and potatoes were well seasoned, and the avocado chimichurri sauce was incredible. It was light, creamy, and bursting with the right amount of acidity, which was a perfect flavor compliment to the empanadas.

Additionally, I tried the "Pretzel Crab Cakes", which are prepared using fresh lump crab meat, pretzel dust, mustard cream, and a roasted pepper coulis. The crab meat was coated in the pretzel dust, which added a little crunch to eat bite. Each crab cake was full of sweet crab meat, the mustard cream and red pepper coulis enhanced the flavor of the crab without camouflaging the natural flavors of the meat.
However, the star of the show was the "Thai Flounder", it was lightly fried, topped with a Thai basil coconut sauce, jasmine rice, and Spinach. The flounder was cooked immaculately, it was seasoned perfectly, and Chef Alberto captured the flavors that I love when I eat Thai food. My main course was full of flavor, a little heat, but not heavy on the stomach.

A little about Chef Alberto, along with his wife, he is is the owner of Pesca World Seafood Restaurant, "Growing up my family has traveled to the great coastal cities around the Gulf of Mexico, Texas to Florida, and throughout the Caribbean," stated Alfonzo. "I love to great seafood. I created my menu for Pesca based on the dishes I fell in love with, like my Isla Mujeres Flounder, which I discovered on a trip with my wife to Isla Mujeres.". The restaurant is located at: 2015 W. Gray, in the River Oaks Shopping Center. Their website and full menu can be viewed at: http://www.pescaseafoodrestaurant.com/. Also, you can see more pictures of my visit by going to my blog: www.eatingwithstyle.wordpress.com; follow me on twitter: @YPEatingwstyle.
Thanks for reading!