This Week's Attack Dawg Bite Award Goes To Ted Cruz
Isaac Lester | 8/7/2013, 12:37 p.m. | Updated on 8/7/2013, 12:37 p.m.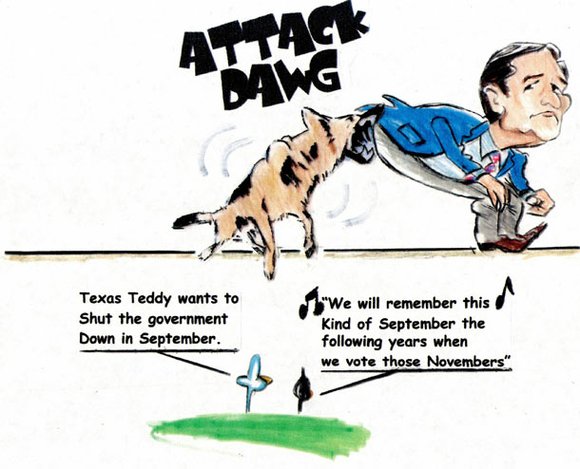 Teddy, you remind me of that pastey little nerd back in grade school that would say and do anything to get attention from his peers. I love your call to shut down the government in late September to spite Obamacare! Beautiful move! It will insure cataclysmic consequences for your Party come 2014 and 2016. Ted, my opinion is that you are too stupid to be a U.S. senator and, God forbid, a candidate for the White House. Don't you remember the last time your Party pulled the stunt by shutting down the government in 1995? That crazy stunt is what saved a deeply troubled Clinton administration, and certainly was the beginning-of-the-end for that worthless blow-hard, Newt Gingrich. The problem with you and the so-called Republican "young guns"
is your eagerness for thoughtless confrontation and blind obstruction with no solutions. An as the old adage warns, "if you're not part of the solution, you are the problem!" To claim that a government shutdown is a "misnomer," and to parcel out which is important and what is "non-essential" shows us a "Romneyesque" ideology that the American people rejected last November. Ted, I've watched you since you reared your garrulous head back in 2012 in step with all of the other anti-Obama zealots from
Capitol Hill, the Tea Party and conservative media. You serve the Tea Party Patriots that insist that Obama is not American. You even said "Obama is the most radical President we've ever seen." Ted, you need to pick up and read a history book on past-radical presidents, starting with our second president, John Adams to "Old Hickory" Jackson, Lincoln, FDR and George "WMD" Bush. These guys were radical! For all of the stupid statements you make, for representing the Tea Party and most important, you not acting like an American yourself, entitles you to this week's Attack Dawg Bite Award.