National Black MBA Association Brings its 35th Annual Conference to Houston
Dawn Paul | 8/13/2013, 11:16 a.m. | Updated on 8/13/2013, 11:16 a.m.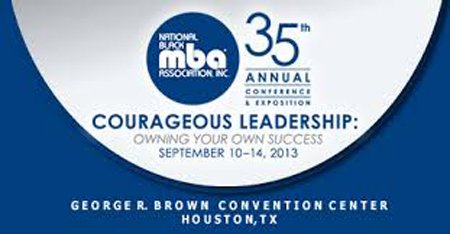 This past weekend the National Black MBA Association (NBMBAA) held its kick-off reception in Houston for their national conference being held at the George R. Brown Convention Center next month. Houston's top leaders and members of the business community gathered at Rice University to welcome the NBMBAA leadership and partners to begin the countdown to their 35th Annual Conference and Exposition.
In today's competitive business world it's only fitting that this year's NBMBAA Conference theme is "Courageous Leadership: Owning Your Own Success!" Judy Smith (the real "Scandal" Olivia Pope), Reverend Dr. Al Sharpton and Robert L. Johnson are just a few of the keynote speakers that will provide attendees with critical and invaluable tips to excel as a major player in the business world. In addition to the star-studded keynote speakers, the NBMBAA Conference is providing attendees with sessions covering a wide variety of topics, networking events and entertainment.
The NBMBAA 35th Annual Conference & Exposition will be held at the George R. Brown Convention Center on September 10 – 14. Register for the conference today at http://www.nbmbaaconference.org/.
Houston Style Magazine was on the scene and interviewed NBMBAA President & CEO Jesse Tyson about the upcoming conference.
1. What drew the NBMBAA back to Houston?
This is the NBMBAA's third time in Houston and third time's a charm. We love that Houston is a culturally diverse city. Another appealing factor about Houston is that this city is a good reach for African American students who attend TSU, Rice, UH, the North Dallas area and even Louisiana.
2. How is the NBMBAA grooming future leaders?
We empower them to take charge of their lives and stress that if you want to be successful you have to take risks. Our Honorary Co-Chairs for this year are Gale V. King (Nationwide Insurance), Dr. Bernard Harris (The Harris Foundation) and Earl Butch Graves Jr. (Black Enterprise). These individuals made courageous first steps and we want to showcase that to our young people and let them know you have to step out. If you want a great break out career you have to take those courageous steps to do that.
3. This year's theme is Courageous Leadership: Owning Your Own Success! What obstacles do you see that keep African-Americans from owning their own success?
The first is not having courage to take that first step to succeed. Not everyone will want to see you succeed and this happens even in our own community with each other, but you have to plow through that. Also, setbacks are just bumps in the road, but you have to have the courage to keep going. Successful people will tell you that they had several bumps along the way, but they didn't stop.
4. Talk about the NBMBAA Leaders of Tomorrow Program.
We focus on grades 9 - 12 and role model the behavior we want to see. We teach them life survival skills, resume preparation and so much more. If we do that well, we prepare them for college and when they are prepared for college, they will become an employee with one of our corporate sponsors or an employer themselves. We have to invest in our kids before we ask our corporate sponsors to invest in them. This program will impact 150 students this year and our goal is 1000.
5. Talk about the positive impacts you have seen the NBMBAA make.
We are grounded in our local chapters and we have over 40 chapters and 10,000 members around the country. Our local chapters are still here doing their local programming when we go back to our headquarters in Chicago. We are going to do more regional programming off cycle of the conference. Some people cannot afford to attend the national conference, but if there is a regional event in their community they may be able to go to that. We have already talked with our corporate partners who have agreed to help us with this initiative so this will help those individuals throughout the year.
6. Any last words and what can attendees expect at this year's NBMBAA Conference?
Attendees can look forward to a star-studded line up of speakers who will speak from the heart about their personal experiences. The attendees will be challenged. They will leave on fire to succeed and they will take that momentum to achieve personal goals and attain great success.