Trayvon Martin Mural At Florida State Capitol in Tallahassee Raises Eyebrows
Style Magazine Newswire | 8/13/2013, 2:02 p.m. | Updated on 8/13/2013, 2:02 p.m.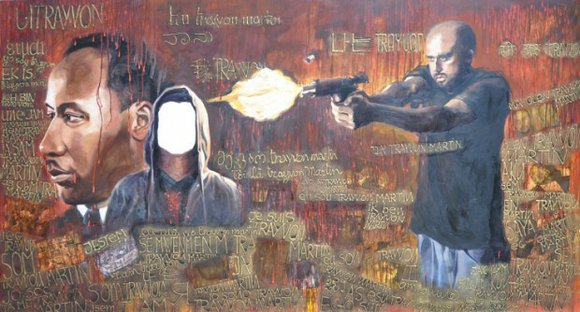 A mural unveiled at the Florida State Capitol in Tallahassee is stirring up a bit of controversy. The mural depicts a boy in a hoodie resembling Trayvon Martin being shot by another man, a local CBS affiliate reported Friday.
A Miami artist, known simply as Huong, from Vietnam, is the woman behind the 100-foot mural she named "We All Are Trayvon Martin." The title of the painting is painted across the mural in several languages, as well as images of civil rights leaders like the Rev Dr. Martin Luther King Jr. with blood flowing from his head.
According to the report, there is a mirror in the mural where the teenager's face would be so visitors can see themselves in his image.
Huong said her mural is part of the Peace Mural Foundation, a nonprofit aimed to promote awareness of human suffering through art.
"The Trayvon Martin trial captured the country like no other had since O.J. Simpson," she wrote in a description of the mural on her website. "It was more than just a heinous crime, it was social injustice. No one ever imagined that on that dark, rainy night, the life of a young man would be stripped from him in cold blood. Carrying nothing but a bag of Skittles he had just bought from a convenience store, the only crime he committed that night was walking into the path of George Zimmerman."