Hydratherma Naturals Healthy Hair Care Collection: A Natural Transition From Damaging Chemicals
Healthy Hair Journey Enterprises grows its consumer base with a first-of-its-kind product line, containing the perfect balance of protein and moisture for longer, shinier, healthier hair
Style Magazine Newswire | 8/14/2013, 1:53 p.m. | Updated on 8/14/2013, 1:53 p.m.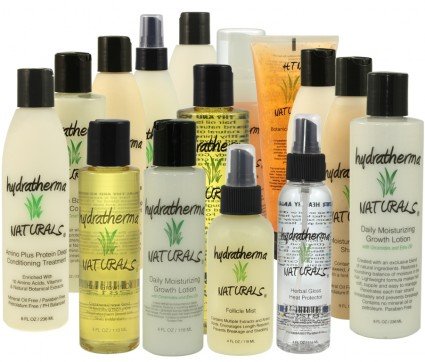 Healthy Hair Journey Enterprises introduces the Hydratherma Naturals Healthy Hair Care Collection, a line of natural-based products developed to improve, enhance and maintain healthy hair by achieving the perfect balance of moisture and protein ratio in the hair.
It is possible for hair to be over-moisturized, generating protein deficient hair that is weak and limp and unable to hold a curl. On the other hand, hair that has too much protein and is moisture deficient will appear dry and brittle and break easily.
This scientific combination of protein and moisture and the synergy of these two agents is the key to healthy hair and natural hair growth and the secret behind how Hydratherma Naturals products deliver on its promise of length retention and beautiful, frizz-free natural curls.
By following a simple and effective system using the superior quality products offered by Hydratherma Naturals, healthy and vibrant natural hair is easily attainable.
Cartwright, a registered nurse and licensed cosmetologist by trade noticed while working on her clients' hair that when the hair was well-balanced, the hair would flourish. Too much moisture or protein would result in breakage. Many of her clients, however, did not know how to achieve this balance.
"I tried many products on my hair and the hair of my clients. Most products would result in too much moisture or protein overload in the hair. So after several years of combining many of the hair care ingredients that I absolutely loved, I was able to design a natural-based hair care collection that provides the perfect balance of moisture and protein levels. I wanted to create an effective solution and a simple hair care regimen that my clients could easily follow," says Saleemah Cartwright, creator of Hydratherma Naturals and co-founder of Healthy Hair Journey Enterprises.
Transitioning from chemically processed hair to natural hair can be a major decision, but most find they are happy to leave behind the damaging effects of chemicals and enjoy the improved health and length of their natural hair after using Hydratherma Naturals.
Using only natural-based ingredients that are PH-balanced, paraben free, mineral oil and petrolatum free, Hydratherma Naturals products repair, nourish, revitalize and rejuvenate even the most challenging hair, leaving hair in a natural state that not only looks healthy but IS healthy.
Hydratherma Naturals Healthy Hair Care Collection products can be found online and at retail stores. Visit www.hydrathermanaturals.com for information and retail locations.
About Healthy Hair Journey Enterprises:
Healthy Hair Journey Enterprises is an independent hair care manufacturer founded by husband and wife team, Willie & Saleemah Cartwright. Their goal is to provide safe and effective products and solutions while going through the journey of achieving and maintaining healthy natural hair.