Of Good Report: The Serial Killer Movie they Tried to Ban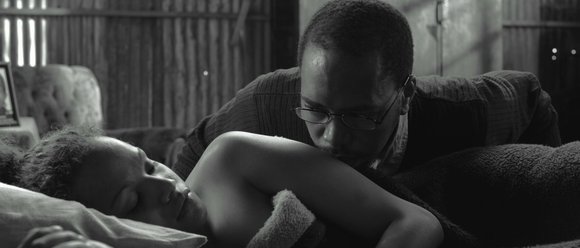 CNN
Few African films have created as much buzz recently as "Of Good Report," a dark tale of a high school teacher who becomes obsessed with a 16-year-old female pupil.
The film noir, described by its South African director Jahmil X.T. Qubeka as a "serial killer origins story about how a social misfit turns into an inadequate man hell-bent on satisfying his shameful lust," was selected to open the 34th Durban International Film Festival on July 18.
But when the day arrived, instead of the movie's opening credits, the festival audience was welcomed with the following on-screen message:
"This film has been refused classification by the Film and Publication Board, in terms of the Film and Publications Act 1996. Unfortunately we may not legally screen the film 'Of Good Report' as to do so would constitute a criminal offense."
The Film Board's decision was based on a scene between the teacher and pupil that it said constituted child pornography.
After the announcement, Qubeka appeared on stage with his mouth taped as a sign of protest. But later on, the ban was overturned on appeal and "Of Good Report" was screened on the last day of the festival, classified as suitable for viewers aged 16 or over.
Qubeka was also awarded a new annual prize for Artistic Bravery as an acknowledgment of "the film's achievements in stimulating worldwide debate and highlighting important issues in South African society."
CNN's Errol Barnett spoke to Qubeka about the controversy surrounding the film and the state of cinema in South Africa. An edited version of the interview follows.
CNN: As frustrating as it was, the initial ban on the film did create buzz. How big of a relief was the overturn of the ban?
Qubeka: Any filmmaker wants their film to be seen, any filmmaker wants their film to resonate. In that regard, I'm happy for the exposure -- and because I believe in the film and because I actually think it's the best thing I've done in 12 years I've been a filmmaker and I've taken the time to craft it. I'm happy that the attention is there because the piece will stand for itself. It may not raise the questions that people expected to, but as a piece of cinema I think it's relatively satisfying.
CNN: How important is the Durban International Film Festival as a platform of expression in South Africa?
Qubeka: This is a film festival, one with a history of protest, of showing taboo work. Even during the apartheid period when films were banned, this festival found a way to show those films. The majority of people that go to see these films are filmmakers from all over the world. So this is the space where they would have had the opportunity to engage the film community.
It's a privilege to do what I do; it's a privilege to be able to have the tools to create worlds that people can engage both psychologically, emotionally and subconsciously. There's a responsibility behind that. I worked in advertising as a director of commercials for eight years, I understand what the power of image and sound does to a human being. Because of that, there's a responsibility I have -- however crazy or questioning or whatever my stories are, I have a responsibility for every single person who watches my film that even if I shake their very core, I must not violate them. That's my own rule.