LSU to play in 2014 AdvoCare Texas Kickoff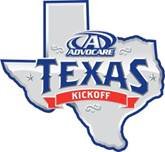 The LSU Tigers will participate in the 2014 AdvoCare Texas Kickoff at Reliant Stadium in Houston, Texas – set to be played Labor Day Weekend. The opponent and specific date will be announced at a later time.
A special two-game package has been created featuring the exclusive opportunity to secure seats for both the 2013 and 2014 AdvoCare Texas Kickoff games at Reliant Stadium. The 2013 game will be played on Saturday, Aug. 31, and will feature two quality teams from the Big 12 and SEC – matching up the Oklahoma State Cowboys and the Mississippi State Bulldogs. This opportunity will be the only presale for the 2014 game featuring LSU.

Two-game packages, which range in price from $75 to $325 per package, must be purchased together. Seat locations will be in the same price level and the ticket limit is 12 seats total per person. Fans who purchase ticket packages will receive priority for future events managed by Lone Star Sports & Entertainment.
This special package will be separate from the LSU ticket allotment of 25,000 seats.
Advance purchase ticket packages will go on sale to the general public on Friday, Aug. 23 at 10 a.m. CST by calling 832-667-2390 or at ticketmaster.com.
The game will mark the second year of a four-year agreement between Lone Star Sports & Entertainment and ESPN Regional Television (ERT), a subsidiary of ESPN, to bring a top college football game to Reliant Stadium during the Labor Day weekend to start the college football season.
ESPN Regional Television
ESPN Regional Television http://espnplus.com/home/ (ERT), a subsidiary of ESPN, owns and operates collegiate sporting events worldwide, including two Labor Day Kickoff college football games; seven college bowl games and eight college basketball events. These account for approximately 200 hours of programming, reach almost 64 million viewers and attract nearly half a million attendees each year. The owned and operated events build relationships with conferences, schools and local communities, as well as provide unique experiences for teams and fans. In addition to event ownership, ERT manages the Big 12 Corporate Partner Program.
Collegiate Football
BBVA Compass Bowl http://www.bbvacompassbowl.com/ (Birmingham, Ala.); Beef 'O' Brady's Bowl St. Petersburg http://www.stpetersburgbowl.com/ ; Bell Helicopter Armed Forces Bowl http://armedforcesbowl.com/ (Dallas-Fort Worth); Camellia Bowl (Montgomery, Ala.); Famous Idaho Potato Bowl http://www.famousidahopotatobowl.com/ (Boise); Gildan New Mexico Bowl
http://www.GildanNewMexicoBowl.com (Albuquerque); Las Vegas Bowl http://www.lvbowl.com ; MEAC/SWAC Challenge presented by Disney http://www.meacswacchallenge.com (Orlando, Fla.); Texas Bowl http://meinekecarcarebowloftexas.com/ (Houston); AdvoCare Texas Kickoff (Houston); Sheraton Hawai'i Bowl http://www.sheratonhawaiibowl.com (Honolulu) and The Home Depot College Football Awards http://espn.go.com/college-football/topics/_/page/home-depot-college-football-awards
Collegiate Basketball
Armed Forces Classic http://www.armedforcesclassic.com/ (Camp Humphrey's, South Korea); Charleston Classic http://www.charlestonclassic.com (S.C.); Hawaiian Airlines Diamond Head Classic http://www.diamondheadclassic.com (Honolulu); Jimmy V Men's & Women's Basketball Classics presented by Corona Extra http://jimmyvclassic.com/ (Madison Square Garden & Durham, N.C.); Old Spice Classic http://www.oldspiceclassic.com/home/ (Walt Disney World Resort near Orlando, Fla.); Puerto Rico Tip-Off http://www.puertoricotipoff.com (San Juan, PR); State Farm Champions Classic http://www.thechampionsclassic.com/ (United Center, Chicago) and Wooden Legacy http://www.thewoodenlegacy.com (Orange County, Calif.)
For more information, visit espnplus.com http://espnplus.com/home/ .
About Lone Star Sports & Entertainment Lone Star Sports & Entertainment (LSSE) is an independent event management company which is closely affiliated with the NFL's Houston Texans. Since being founded in 2003, LSSE has established itself as the leading sports event promoter in Houston. In addition to the Texas Bowl, LSSE has emerged as a premier promoter for international soccer matches, including the 2010 MLS All-Star Game featuring Manchester United, the 2006 FC Barcelona U.S. tour, 2003 and 2008 matches between the United States and Mexico, and the 2005, 2007, 2009 and 2011 CONCACAF Gold Cups. LSSE has also reinvigorated the "Battle of the Piney Woods" rivalry between Stephen F. Austin and Sam Houston State and has promoted a pair of major concerts featuring country superstars George Strait and Kenny Chesney.