"Sheryl Sorrentino Tackles Faith and Race In Her Latest Novel"
Dawn Paul | 8/21/2013, 11:13 a.m. | Updated on 8/21/2013, 11:13 a.m.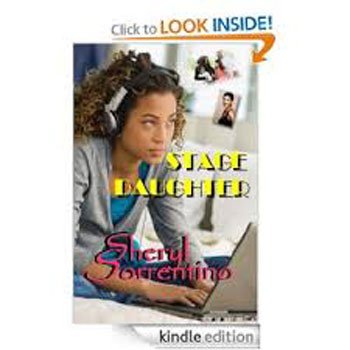 Acclaimed author Sheryl Sorrentino's passion to write stemmed from a family tragedy. It was through that experience that her passion and talent for writing bloomed and evolved into literary success. Her 4th and latest novel Stage Daughter stays in line with her previous work continuing to keep the reader engaged and connected to these interesting but fictional characters. Stage Daughter tackles faith, sexuality, race and more (yes, more!).


Sorrentino introduces us to individualistic performing arts student Razia. This biracial 12 year-old preteen is being raised by her mother Sonya, who is also biracial. Sonya is living vicariously through Razia and battling her own distressing demons from the past. Like many mothers, Sonya was forced to put her aspirations on hold to raise a child. Razia rebels and goes on a rousing journey to find her estranged father Aziz. Razia's rebellion is something many young girls and mothers can relate to. You would think that this would be a book by itself and then Sorrentino adds sexuality, 9/11, bigotry, racism and religion. Sorrentino boldly but sensitively addresses real life situations that have the reader engrossed in a dramatic and suspenseful plot.

Sorrentino's work stands out because of her amazing ability to take risks that evoke intense reactions in the reader. I enjoy Sorrentino's witty writing style and wonder why such a gem in this literary world has not had her work turned into a movie or television series?


Sheryl Sorrentino is also the author of The Floater. For more information about Sorrentino and all of her books please visit http://www.sherylsorrentino.com.

Sheryl chatted with me about her 4th novel Stage Daughter.
1. Did you write Stage Daughter for any particular audience in mind?
I did start off with women in mind, but I will confess I was hoping it would have a crossover appeal with young adults and others across all lines.
2. The main character in The Floater was a minority woman and the main character in this novel Stage Daughter is also a minority female. Is it a conscious decision for you to have your main characters as minority females?
Not necessarily. I think with Stage Daughter I was just trying to make her diverse and as interesting as possible. I just wanted to embrace diversity.
3. 9/11 is and always will be a sensitive topic for this country. How did you manage to address this subject in this fictional novel, but approach it in a respectful way?
Well, it was a little bit of a tight rope. No one can diminish the horror or pain of that event. We will never get over 9/11. The point I was trying to make is that we went to an ignorant extreme bashing the Muslim community. The amount of hate speech against Muslims was horrific and we need to evaluate individuals as individuals. We should not judge people by their backgrounds.
4. To write about a biracial main character and the Muslim religion, what research did you do to successfully write this book?