177 pounds lighter, yo-yo dieter reaches goal weight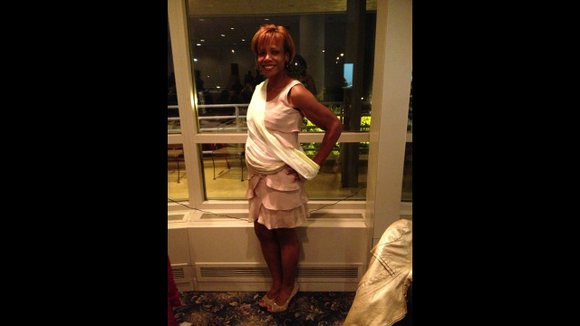 By Jamescia Thomas
Special to CNN
Kia Horton was thin as a little girl. "Like fit your fingers around (my) ankles skinny," she recalls.
But at 5, she says, she became a victim of sexual abuse, triggering more than a decade of poor eating habits. By the time she started eighth grade, she was borderline obese.
At 15, Horton weighed almost 200 pounds. Her father allowed her to sign up for a diet meal delivery service. She lost 30 pounds on the program, but she says, "I hated the food, and the program was not sustainable because eating their food was the only key to success."
She gained back the 30 pounds and then some. By the time she graduated college, she weighed 260 pounds.
"I immediately joined a gym and hired a personal trainer," Horton says. "This also proved to be futile because I was not ready to change my eating habits."
She lost no weight working out with the trainer. "I quit!" she remembers thinking.
Her bad eating habits continued, and in 2006, at 31, the Chicagoan topped out at her heaviest weight of 319 pounds. Horton is 5 feet 4 inches; her body mass index at the time was 54.8, which is considered morbidly obese.
"Every night for dinner I would stop and get two Happy Meals from McDonald's," she says.
She didn't have kids at the time, but Horton acted like she was ordering the meals for her children. She didn't want anyone to realize she was eating both kids' meals by herself.
Everything felt out of control, Horton says. She didn't have a great relationship with her mother, she didn't feel valued at her job, and some of her personal relationships were in disarray. For weeks at a time, she wouldn't interact with family or friends outside of her co-workers. She continued to allow food to be her comfort.
"Food was the only thing that was good," she remembers. "It didn't talk back."
She knew starting a weight loss journey would be useless if she didn't address the issues that led her to gain the weight in the first place.
"There was so much going on in every aspect of my life," says Horton, now 38. "I would have lasted on a diet for a week."
Making progress
At her heaviest weight, in 2007, Horton got engaged. She knew she wanted to look amazing in her wedding gown. But she often wondered, "How can I possibly look good in a wedding dress at 300 pounds?"
She began to consider weight-loss surgery and had the Lap-Band procedure done in March 2006. Doctors placed an adjustable band around her stomach, restricting its capacity, which limited the amount of food she could consume. She was supposed to have the band tightened every three months to continue losing weight. But shortly after the procedure, Horton became pregnant with her first child.
She was ecstatic. But after learning of her pregnancy, doctors told her they wouldn't be able to adjust the band during her pregnancy or if she breast-fed. Horton had lost 50 pounds by the time her daughter, Asha, was born in February 2007, but she hasn't had the band adjusted since.