Giving Tennis Parents A Good Name: Meet Andy Murray's Mum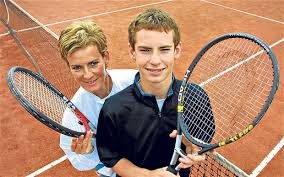 By Ravi Ubha
for CNN
Tennis parents don't always have the best of reputations. Think Damir Dokic, John Tomic and Jim Pierce.
Former Wimbledon semifinalist Jelena Dokic said she was abused by her father and he spent time in jail for threatening the Australian ambassador to Serbia. Tomic, dad of the much-hyped Bernard Tomic, is waiting to discover if he'll face punishment for allegedly assaulting the player's hitting partner.
Mary Pierce, a two-time grand slam champion, once took out a restraining order against her father.
If you listen to Andy Murray his mother Judy sounds like the ideal tennis mom, even if she has been accused of being too pushy and can rub some the wrong way with her in-your-face cheering from the stands.
"My mum's the one person who gets me, who understands me really well," Murray was quoted as saying by Britain's Daily Express last month. "I can't remember the last time I was in an argument with her."
And as Andy prepares to defend his title at the U.S. Open, his biggest supporter will be right there with him.
Presumably if he wins another title in New York, he won't almost forget to hug mom like he did at Wimbledon after defeating Serbia's Novak Djokovic and climbing into the stands.
"The whole thing was just quite sort of surreal really, to see him up there," Judy Murray told CNN's Open Court.
However, Judy Murray is more than just the vociferous fan that's routinely seen in the world No. 3's player box at major tennis tournaments around the world.
As well as playing a major role in her son's successful career, she is also in charge of Britain's hopes in women's tennis' premier team competition.
Indeed, far from simply basking in her son's success, she organizes events for kids in her continuing quest to get more youngsters playing the sport that her family has loved for half a century.
Judy Murray was a fine player herself, contesting matches in the juniors before her focus in tennis shifted to her two sons.
Andy isn't the only Wimbledon champion in the family -- his older brother Jamie combined with Jelena Jankovic to win the mixed doubles event at the All England Club in 2007.
"I think it's quite clear tennis is Judy's No. 1 passion," Anne Keothavong, who played under Murray on Britain's Fed Cup team, told CNN.
"She does put a lot back into the game and she's doing a lot to help promote and grow the game, too."
Judy Murray didn't always feel passionate about tennis, according to her mom Shirley Erskine.
As a child growing up in Scotland, she instead wanted to hang around her younger brothers and play soccer -- as her dad Roy did professionally.
Shirley and Roy were county tennis players in their day and although they no longer take to the court, Judy's mom remains a fixture at the Dunblane club where it all began for her daughter and Wimbledon-winning grandchildren.