Shake Off the Cold in the Lexus 9040A ES 300h
Jo-Carolyn Goode | 12/5/2013, 7:28 p.m. | Updated on 12/12/2013, 7:28 p.m.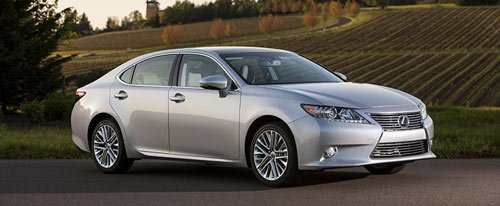 On cold days, especially like the ones we have had, all I want to do is wrap up in a blanket, grab a cup of hot tea, and enjoy the warmth. So I can really appreciate a vehicle that can help me do the same thing. This past week I shook off the winter chill inside the 2013 Lexus 9040A ES 300h sedan.
The sixth generation Lexus 9040A ES 300h gets a bit of a makeover for 2013. Longer by one inch, the exterior frame that sits on 17-inch alloy wheels has been lengthen, which has provided more interior space. Other slight changes include the rear design that has concealed the once exposed exhaust and rear spoiler. Features like fog lamps and running lights seemed to be more inline with the design of the vehicle giving an overall cleaner, smoother look.
I like the exterior but I LOVED the interior. I highly recommend the color combination of deep sea mica and parchment NuLuxe bamboo. Right away it grabbed me and took the vehicle to a new level of luxury. It also made Lexus more environmentally conscience as bamboo is a renewable resource. In addition, the use of NuLuxe material will allow better durability of the seats as it more resistant to stains and holds up to wear and tear.
I know this next line will make those who live in places like Chicago laugh but I really think it should be required that vehicles have heated seats and steering wheels. I never wanted to leave the comfort of my vehicle because I was all toasty. The 2013 Lexus 9040A ES 300h so spoiled me! And it didn't stop there. My test vehicle also had ultra comfortable 10-way powered seats with memory settings, premium audio system with 6-disc changer, Bluetooth technology, and dual climate control. Unfortunately, in my case, it also had a moonroof that I never got to use. Darn cold weather.
As one would imagine with the Lexus brand technology was through the roof. The normal stuff that you would expect like Bluetooth, LCD screen, navigation system, and USB ports were all there. But could you imagine a rear window defogger…with a timer? Really Lexus?
Just as big as technology was the safety of the Lexus 9040A ES 300h. Air bags…check. Vehicle stability control…check. Anti-lock braking system…check. This is a Lexus so you know there is more. Correct you are. Helping drivers be more conscience about how they drive is the lane departure alert, blind spot monitoring, and cross traffic alert. If you move out of your lane, come to close to the car in front of you, or another vehicle crosses while you are backing up a beep sounds and/or a light flashes.
Before starting the engine, make a decision as to whether you want to drive in Eco, Sport, or Normal mode. Eco gives the best fuel efficiency, sport gives the most power, and normal puts the driver in control. Since my test vehicle was a hybrid, there was the addition of the EV mode that allows the vehicle to ride up to 20mph on electric power. Making the Lexus 9040A ES 300h stand out even more is the EPA estimate of 40mpg city and 39mpg highway. You read that right. That is not a typo.
What I have given you is just a peek at the Lexus experience. Base priced at $38,850, you can shake off the cold too. I beg you to not walk but run to your Lexus dealer to find out more about the Lexus 9040A ES 300h. Find out more information at www.lexus.com.