Dow falls 130 points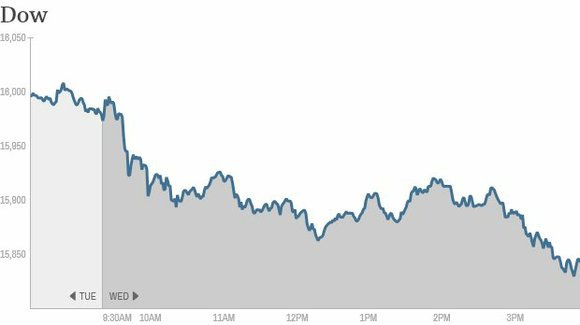 By Ben Rooney
Stocks tumbled Wednesday as investors bet that a new U.S. budget deal raises chances the Federal Reserve might start to scale back its support for the economy soon.
The Dow Jones industrial average fell nearly 130 points. The S&P 500 and the Nasdaq both lost more than 1%.
Congressional negotiators reached a bipartisan budget compromise late Tuesday that would prevent another government shutdown, if approved by the House and Senate. The deal would set spending levels, reduce the deficit and relieve some of the arbitrary, forced spending cuts.
Some analysts say the deal could make the Fed more likely to announce it will begin trimming its $85-billion-a-month bond purchases as early as next week. Fed chairman Ben Bernanke has said repeatedly that uncertainty about fiscal policy is a threat to the economy.
"This budget agreement probably increases the odds of a taper sooner rather than later," said Ryan Larson, head of equity trading at RBC Global Asset Management.
Still, many investors say the Fed will remain on hold at next week's policy meeting, despite a recent run of strong employment data. The general consensus is that Fed vice chair Janet Yellen, who has been nominated to succeed Bernanke and is awaiting final approval from the Senate, will begin tapering early next year.
What's moving. Twitter shares bucked the downward trend and rose slightly. The stock even hit an all-time high of $53.87 earlier in the day. Twitter, which has more than doubled from its IPO price, was a top trending ticker on StockTwits.
"$TWTR laughs in the face of general market fear," said PTSD_Trader.
But not all investors were convinced the recent gains would hold, and some were betting Twitter shares will fall.
"$TWTR longs are weak and will jump ship This company ain't worth 50's. We will see 40's soon enough. Shorts will prevail," said fierce1814.
BlackBerry shares ended the day lower, erasing earlier gains. The troubled smartphone maker has been punished this year, with shares down nearly 50%. BlackBerry is set to report quarterly results next week, and some traders are hoping for good news.
"$BBRY big news coming down the pike in my opinion," said newday1.
Others say the rebound in BlackBerry's stock is probably not the beginning of a longer-term recovery.
"$BBRY up two days in a row. means nothing, just green in red so pointing out..." said howardlindzon.
Pandora shares sank after rival online radio service Spotify expanded its free streaming option for mobile devices.
Shares of MasterCard rose after the company said it would increase its quarterly dividend by 83% and announced a share buyback program. The company also announced a 10-for-1 stock split effective in January.
"$MA why even mess with $AAPL when ya have MA," said trader85003.
Smith & Wesson shares jumped a day after the gun maker reported quarterly earnings that beat expectations.
Groupon shares rose following positive reports from Wall Street analysts.
Costco shares dropped after the company reported quarterly profits that fell just short of analysts' expectations.
Bank stocks were under pressure one day after federal regulators officially approved new restrictions on risky trading by federally-insured financial institutions. Goldman Sachs and JPMorgan Chaes each fell more than 1% while Morgan Stanley, Citigroup and Bank of America all finished the day down about 2%.