Congresswoman Sheila Jackson Lee Reflects on the Life of Nelson Mandela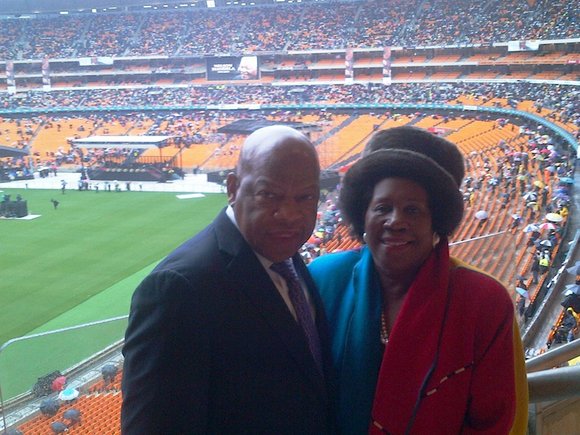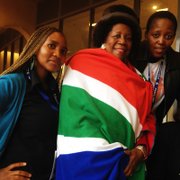 I recently returned back from South Africa after attending the emotional memorial service of one of the greatest persons in the record history of mankind – Nelson Mandela. Nelson Mandela once said that "courage was not the absence of fear but the triumph over it."
What is the message and meaning of Nelson Mandela to the world?
· Courage in the cause of moral righteousness will triumph in the end;
· Love, forgiveness, and reconciliation is far more powerful that hatred, resentment, and war;
· That we should "never doubt that a small group of thoughtful, committed citizens can change the world; indeed, it's the only thing that ever has."
Nelson Mandela's commitment to humanity as a human rights lawyer, a prisoner of conscience, an international peacemaker, and as the first elected president of a free, democratic, and multiracial Republic of South Africa inspired the world. Nelson Mandela dedicated his life to serving humanity and making the world better for our children. Nelson Mandela once said that the one of things that bothered him most during his imprisonment was not being able to hear the laughter and experience the joy of children.
His life teaches us the importance of instilling in our children a zest for living and a love for serving others. We must always honor the life and work of a man went from a militant freedom fighter, to political prisoner, to a unifying figure, to elder statesman of the world. He was a father figure, elder statesman and global ambassador. He was the guarantee, almost like an insurance policy, that South Africa's young democracy and its leaders will pursue the nation's best interests. He led the campaign to defeat apartheid through non-violence, peace, and dialogue. At his inauguration Nelson Mandela said, "We enter into a covenant that we shall build a society in which all South Africans, both black and white, will be able to walk tall without any fear in their hearts, assured of the inalienable right to human dignity, a rainbow nation at peace with itself and the world."
Nelson Mandela never allowed resentment to drive him away from the path of reconciliation. He emerged from prison to set free an entire nation; he shed the bonds of slave labor to reshape the fate of his people. Nelson Mandela's life is the story of courage and a triumph over fear, and unyielding faith in the power, promise, and possibility of the human spirit.
He inspired the world with his strength and perseverance, with his message of hope and his embrace of freedom. "May the life of Nelson Mandela long stand as the ultimate tribute to the triumph of hope in the quest for freedom. As Nelson Mandela said: "To be free is not merely to cast off one's chains, but to live in a way that respects and enhances the freedom of others."
Nelson Mandela said, "I have fought against white domination, and I have fought against black domination. I have cherished the ideal of a democratic and free society in which all persons live together in harmony and with equal opportunities. It is an ideal which I hope to live for and to achieve." May it be a comfort to his family and to the people of South Africa that so many mourn the loss of this extraordinary man and word historic figure.