Houston Family Prays for a Christmas Miracle to Find Marrow Donor for Child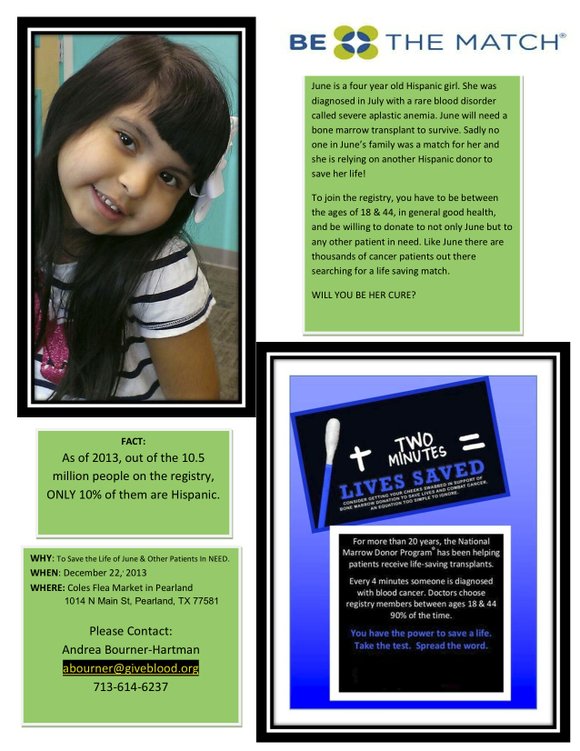 With less than one week left till Christmas, families are making last minute preparations and rushing to find that special gift for a loved one. Janet Isassi and her family are in a hurry to find a matching donor for a bone marrow transplant to keep their four year old daughter June alive.
June is a selfless happy little girl that told Santa she wants two things for Christmas: a truck for her younger brother and to be free to go home to her family after months of living at The Texas Children's Hospital. It is here that she receives white blood cells to fight off any minor infection that could take her life. This past summer, little June was diagnosed with Aplastic Anemia, an extremely rare blood cancer that affects one in 300 million persons.
The Isassi family and their friends invite the Greater Pearland community to attend this Sunday Dec. 22nd a registration donor drive in Pearland. "Be The Match® Registry", will take place between 8 a.m. and 2 p.m. at Coles Flea Market using a simple cheek swab. Donors with diverse racial or ethnic backgrounds are especially needed, as patients in need of a transplant are most likely to match someone who shares their same race or ethnicity. June, who is Hispanic, has been unable to find a match from the 10.5 million potential donors on the registry, as only 10% are Hispanic.
June's parents are devout Christians and they attend The Catholic Charismatic Center. They have faith that a matching donor will be found soon before little June's health worsens and she becomes terminal.
About Gulf Coast Marrow Donor Program The Gulf Coast Regional Blood Center, an accredited donor center for the National Marrow Donor Program which operates the Be The Match® Registry, is home to The Gulf Coast Marrow Donor Program (GCMDP). The GCMDP helps patients with leukemia, lymphoma and other diseases who need a marrow or umbilical cord blood transplant. People can join the Be The Match Registry – the world's largest list of potential marrow donors and donated cord blood units – contribute financially and volunteer. Patients and their families can also turn to Be The Match for support and resources before, during and after transplant. The NMDP is a nonprofit organization that matches patients with donors, educates health care professionals and conducts research so more lives can be saved.