Controversial boxer Mike Tyson faces "biggest fight" of his life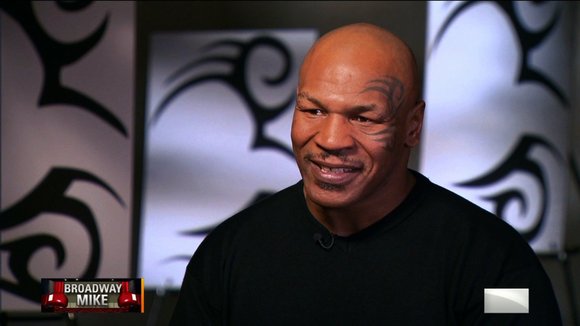 By Sarah Holt and Rachel Nichols
Mike Tyson has always relied on a fighter's instinct -- both in and out of the boxing ring.
The American was once idolized as the youngest heavyweight champion of the world only to be swiped off his pedestal by criminal convictions and drug addictions.
But at the age of 47, and long since retired from the ring, the provocative pugilist told CNN he is only now facing his biggest battle.
"Being responsible - that's going to be the most difficult fight in my life," Tyson told CNN's Rachel Nichols for her Unguarded series.
"I've never been responsible before. Just being a good husband and a good father. This is the biggest fight. This is the fight I'm taking with open arms."
Tyson, who is married to Kiki, his third wife, and has fathered eight children, is determined to focus on his family and a new generation of young boxers after a high-profile and controversial career.
Fatherhood for the man dubbed "Iron Mike" is framed against his own experience as a shy kid turned street fighter growing up in the Brownsville area of Brooklyn.
"Drugs, thefts, gang infested, crime infested," Tyson recalled of his childhood neighborhood. "No hope.
"To this day, I can't figure how from there, at that particular time, I made it to where I am now."
A teenage Tyson, by now spending time in a reform school, found an exit when his talents in the ring were spotted by respected trainer Cus D'Amato.
At the age of 18, Tyson turned professional and was soon undefeated in 22 bouts. Two years later, in 1986, the young American knocked out Trevor Berbick to become the youngest heavyweight world champion in history.
Tyson went undefeated for another four years but, with the benefit of hindsight, he now sees that heady era of fame and fortune very differently.
"I don't like that time in my life," Tyson continued. "I didn't like the person I was back then.
"Even with all that money and all that success I had, I didn't get anything done. My kids never saw me. I was a horrible father."
There were more life lessons for Tyson when in 1992 he was found guilty of rape and sentenced to 10 years in prison.
On his release, the Brooklyn boxer returned to the ring but controversy soon followed in the infamous "bite fight" against Evander Holyfield.
During the duo's second heavyweight title bout in 1997, Tyson chewed off a chunk of Holyfield's ear. He was later served with a one-year boxing ban.
But just as Tyson's reflections of the highs have changed over time, the same can be said of these low points.
Commenting on the so-called "bite fight" Tyson said: "Even though I was an undisciplined it was the only way I could get any kind of relief.
"I'm sad I bit his ear. I really am sorry because I like Evander, he's a good guy, a really good guy."