Montina Cooper, Background Singer for Beyonce for over 10 years
LeAndrea Mack | 12/23/2013, 11:19 a.m. | Updated on 12/23/2013, 11:19 a.m.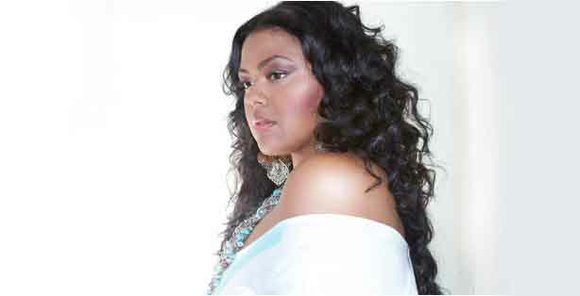 Envision your office as a stage, stiletto heels and cocktail dresses as your company's required dress code, and your boss is Beyonce! Montina Cooper gets to live this dream night after night as a background vocalist for Beyonce on the current "Mrs. Carter World Tour!"
This talented songstress has become a "go-to girl" in an ever-changing industry with a career spanning over 10 years that include backing huge singers like Kelly Rowland, Mary J. Blige, Jamie Foxx and an accumulation of other prodigious opportunities like arranging vocals for Earth, Wind and Fire, performing at BET's 2012 Black Girls Rock and opening for the late great Gerald Levert.
Singing since the age of 2, Cooper was hand selected by Beyonce along with Crystal "Crissy" Collins and Tiffany Moníque during the Beyoncé Experience tour in 2007.
Collectively they make up the group The Mamas and are Beyonce's background vocalist for her current tour but this St. Louis native raised in Housto, Texas success as a background vocalist was jumpstarted by an encounter with Mary J Blige at the age of 21. After belting out perfect pitch for Blige, she was sent to NYC where she started the process of working on an album and singing background for Blige. Although the album process didn't pan out, the learning process for Cooper was valuable. She has learned more about the industry and we should all pay attention because her time to shine as a solo artist is near!
As a participant in the reality series, "The Biggest Loser" Cooper fought to shed weight and even after her time with the show had ended, she continued to lose the pounds and adopt a healthier lifestyle. After going through battles of cancer alongside her mother and her husband (both survivors) she found that the stress had brought back some of her weight. In the St Louis Post Dispatch she confessed, "I lost weight in front of the world and then picked it up in front of (Beyoncé) fans." However she is determined to continue the path of a healthier lifestyle and has set new weight loss goals.
Montina Cooper is a lady of style but her cutting edge hair trends are developed by one of Houston's premier hair stylists Michelle "Meme" Coleman, who happens to also be Cooper's sister. In the St Louis show of the Mrs. Carter World Tour, Cooper rocked a sleek black, shoulder-grazing bob with blue undertones, something that stylist Michelle "Meme" Coleman has helped Cooper maintain as her signature look with a special blend of colors made exclusively for her. The captivating blue tresses represent the edgy class of style Coleman has always envisioned for her sister. Over the years Coleman has styled her sister with great versatility including naturally textured short hair, cascading curls past her shoulders, and beautiful hues of blondes. Coleman says, "I always make sure she (Cooper) is ready before she goes on the road and I will touch her up when she is home on breaks to get her ready again. Because she is gone for long periods of time I always use The Resurrection" by Back To Basic on her hair to replenish it and the Chi Royal Treatment line as I style it."
Together these sisters have built impressive resumes. Other clients of Coleman's include tennis star Serena Williams, WNBA megastars Tina Thompson and Sheryl Swoops and singer Kelly Rowland. Montina Cooper has been on 5 big tours with Beyonce including the 2004 Ladies First Tour with Alicia Keys, Missy Elliott, Tamia , The Beyoncé Experience with Robin Thicke in 2007, the 2010/2011 I Am ... World Tour, and the promotional tour for the album "4."
Currently you can catch Montina Cooper on the Mrs Carter World Tour and visit Michelle "Meme" Coleman at Family Cuts Hair Salon in Katy TX.