PatientStyle makes hospital gowns glitzy
Jessica Crawford | 12/23/2013, 11:57 a.m. | Updated on 12/23/2013, 11:57 a.m.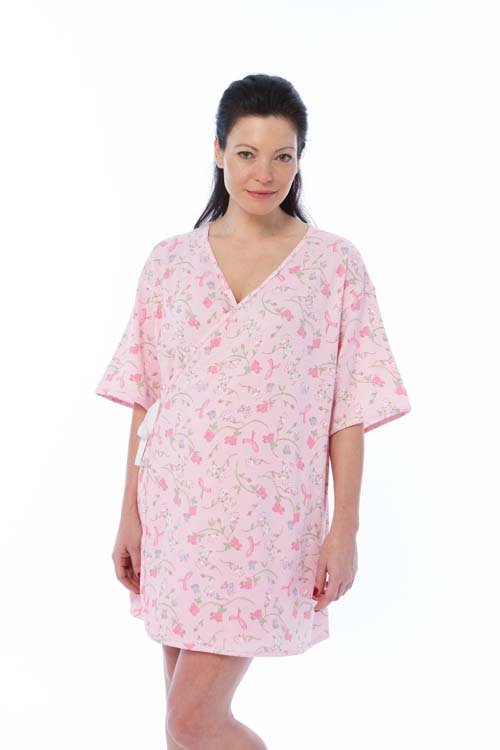 PatientStyle gowns- an alternative to the typical hospital gown- is attempting to change the way people see the medical experience.
"There's the movie 'Something's Gotta Give' where Jack Nicholson walks down the (hospital) hallway and his backside is exposed," said PatientStyle President Dusty Eber. "That's a common image people associate with hospitals."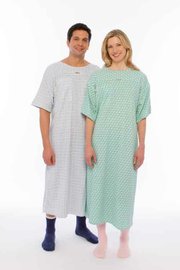 PatientStyle offers hospital gowns that are unique to different medical situations. They currently offer items such as a Mammography Top, a Modesty Gown, a Nursing Gown, and a Tie Gown (which prevents indecent exposure by tying to the side instead of straight down the back). The gowns also come in a variety of designs and colors.
"We're always working on a new product," said Eber. "We started with adults, then we added pediatrics about a year and a half ago. When we were meeting at hospitals around the U.S., we saw that was a real clinical need. Nurse Directors were asking."
Eber, who said he worked in the retail industry for fifteen years, found the inspiration for PatientStyle while he and his wife were at the hospital for the birth of one of their children. In a previous job, the company he worked for produced comfortable pajamas.
"One of the categories in our old company was comfortable pajamas," he said. "I thought that the application would work for healthcare."
Gerald Grimes, a managing partner at the healthcare laundry service company Corporate Cleaning Solutions, said that the gowns were just what the company needed to being patients comfort.
"We are a concierge, which means our clients and their patients want something higher-end and better quality," he said. "We chose PatientStyle gowns."
While Walgreens sells standard hospital gowns for between $15.99 and $27.99, individual PatientStyle gowns range from $32 - $49.85 on www.amazon.com.
"They are an interlock," said Eber. "They are a cotton poly-knit. Typical hospital gowns are wovens, so these are a knit product. A very similar kind of product to if someone were to buy pajamas at Nordstrom's or Macy's."
According to Grimes, the construction of the PatientStyle gowns has proven to make them more resilient than the average hospital gown.
"You get three times as many washes with their gown as opposed to the standard gown that's on the market," he said.
PatientStyle gowns are currently in use at the University of Texas Southwestern Medical Center at Dallas and Victory Healthcare in Texas. Eber said the gowns are also in use at Memorial Sloan-Kettering Cancer Center and some Mayo Clinics.
"We're in a few hundred hospitals around the U.S.," he said.
In addition to filling a niche clothing market, Eber said that he also saw that PatientStyle could improve customer satisfaction- which is now both a moral and monetary end.
"There are government reimbursements that are tied into patient experience and patient satisfaction," Eber said. "So there is a big movement in healthcare to increase patient experience and patient satisfaction."
The push to improve patient satisfaction is exemplified by Medicare, which began to adjust its payment to hospitals according to patient satisfaction in Oct. 2012.
Grimes said that quality is woven- or rather, interlocked- into every gown.
"The thread count is higher, the quality is there. It's in the material that they use," he said.