75th Annual Southwest District Livestock Show & Rodeo Southeast Tourism Society Top 20 Event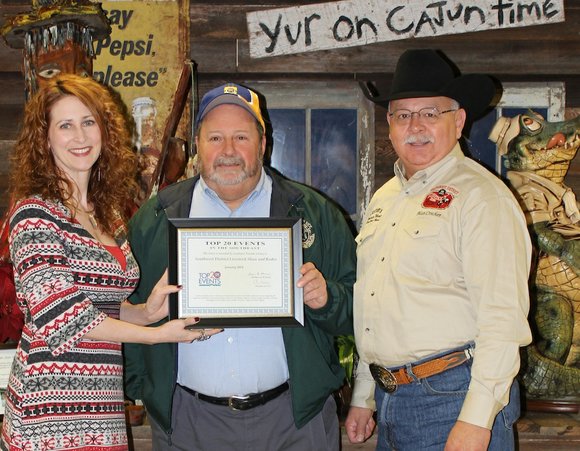 The Southeast Tourism Society (STS) recently honored the Southwest District Livestock Show & Rodeo as a Top 20 Event for the first quarter of 2014.

The event will be held January 30—February 1, and is celebrating its 75th anniversary. "The Greatest Show on Dirt" will feature rodeo performances, livestock shows, Queen's Pageant, stick-horse rodeos and more. The "mane" attraction is the professional rodeo performances that kick into gear each night featuring bucking broncos, thundering hooves and cheering fans.
The Lake Charles/Southwest Louisiana Convention and Visitors Bureau is a member of STS, an organization that promotes travel to and within the southeastern part of the United States. The bureau nominates all area fairs, festivals and events quarterly. The STS Top 20 Events marketing program highlights the "best of the best" from submitted entries. Events are selected from each of the following STS member states: Alabama, Arkansas, Florida, Georgia, Kentucky, Louisiana, Mississippi, North Carolina, South Carolina, Tennessee, Virginia and West Virginia.
The Top 20 Events publication is sent to over 1,600 newspapers, magazines, radio stations, TV stations, AAA publications and others. The combined circulation of organizations using the publication is well into the millions. The potential media coverage of these events has made the Top 20 Events list a coveted honor.
For more information, contact the Southwest Louisiana Convention and Visitors Bureau at (337) 436-9588, or visit www.visitlakecharles.org http://www.visitlakecharles.org/ .