Houston Welcomes 2013 NBA All-Star
Kim Davis | 2/5/2013, 12:02 a.m. | Updated on 2/5/2013, 12:02 a.m.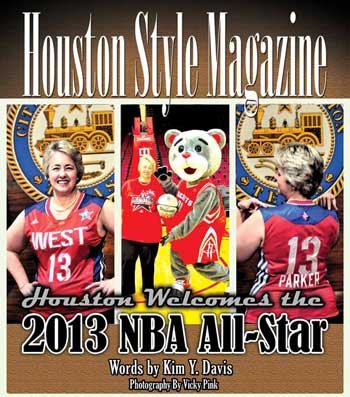 Houston, we are having a party! It's called NBA All-Star Weekend and when it tips off next week in Houston there will be an undeniable energy in and around town. The festivities take place February 14th -17th. While the NBA's top players prepare to compete in what has historically been an offensive exhibition, fans, celebrities and local residents prepare for a lot of entertainment.
The All-Star events extend far beyond the sidelines of the basketball court and will engage kids of all ages. The last time the NBA brought its annual mid-season party to Houston was 2006 and 1989 before that. This event is good for the city on a number of fronts and Mayor Annise Parker is excited and proud to be Host In Chief.
"We know how to do big sporting events, we do them very very well," says Mayor Parker. "We get nothing but compliments after the fact. The fact that the All-Star game has come back to Houston means that they had a good experience last time and know what we can do."
Indeed it does. This is the league's 62nd Annual All-Star Game and the third time the Bayou City hosted the coveted all-star event. In fact, despite how the Houston Rockets season turns out, for at least one weekend Houston will be the basketball city people are tuning in to see. That's good news for proud Houstonians, local basketball fans and the city.
The Sunday night game at the Toyota Center will reach fans in 215 countries and territories in 47 languages. It will be televised live on TNT and cap off a weekend of events on and off the court including the Rising Stars Challenge for first and second-year players, Three-Point and Slam-Dunk contests and an All-Star Celebrity game. Basketball aside, the weekend is well known for its parties, rap shows, galas and celebrity sightings. Yes there will be a lot of people watching opportunities and even the family friendly NBA All-Star Jam Session. This is a weekend with something for just about everyone.
Mayor Parker proudly talks about Houston being a "major American city." She also says it takes a lot to pull off a big event that attracts people and viewers from around the world. Yes, when the networks do live shots and broadcast the game and various events they will show shots of Houston and talk about what the city has to offer. In short, All-Star Weekend is a great time for Houston to shine.
Speaking of shining, the Rockets will have one player representing the home team in the All-Star Game. First year Rocket James Harden will make his All-Star debut Sunday night as a reserve. Harden joins a team of A-listers including Western Conference starters Kobe Bryant (Lakers), Dwight Howard (Lakers), Blake Griffin (Clippers) and Chris Paul (Clippers). The Eastern Conference starters include Carmelo Anthony (Knicks), LeBron James (Heat), Kevin Garnett (Celtics) and Dwayne Wade (Heat). Spurs coach Greg Popovich will coach the west squad while Miami Heat coach Erik Spoelstra will lead the east.
Whether you're planning to attend one of the games, concerts, parties or other related events it is time to put your game face on. "We won't all have the opportunity to be here in the Toyota Center during the All-Star Game," adds Mayor Parker. "We may not all have the opportunity to go to one of the myriad fan accessible events and most of us will not be able to attend the high level parties that will go on in the city of Houston. But those visitors that come here need to be greeted they need to have a good experience."
Those visitors will spend money around town, contribute to our economy and hopefully talk about what a great time they had in Houston. It is definitely a nice reminder that the Bayou City is primed and ready for the next big game.