Grammy® Award-Winning Artist Alicia Keys to Headline 2013 NBA All-Star Halftime Show as Part of the "Entertainment Series Presented BY Sean John at Macy's"
Style Magazine Newswire | 2/6/2013, 3:06 p.m. | Updated on 2/6/2013, 3:06 p.m.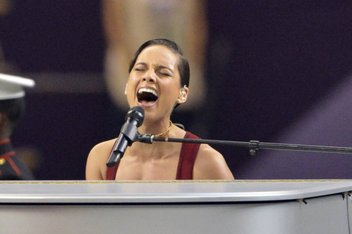 NEW YORK – Fourteen-time Grammy Award-winning artist Alicia Keys will headline the 62nd NBA All-Star Game as the sole performer of the halftime show on Sunday, Feb. 17. Keys will perform a selection of her chart-topping hits as part of the All-Star Game "Entertainment Series presented by Sean John at Macy's." The game will air live at 8 p.m. ET on TNT, ESPN Radio, and in 215 countries and territories and in 47 languages.
Prior to the start of the All-Star Game, global superstar NE-YO will welcome the players to the court with an exciting performance of some of his greatest hits as part of "Entertainment Series presented by Sean John at Macy's," followed by nine-time Grammy Award-winning recording artist John Legend, who will sing the U.S. National Anthem. Actress/singer Gloria Reuben, who currently stars in the multi-Academy Award-nominated film "Lincoln," will perform the Canadian National Anthem.
On Saturday, Feb.16, Nick Cannon will host State Farm All-Star Saturday Night, airing live at 7 p.m. on TNT, featuring performances by British pop sensation Ellie Goulding, American Idol Season 11 winner Phillip Phillips, and recently reunited pop punk band Fall Out Boy. Goulding will tip off the evening by singing her No. 1 hit single, "Lights," followed by Phillip Phillips, who will perform his hit "Home" between the Taco Bell Skills Challenge and Foot Locker Three-Point Contest. Fall Out Boy will rock the house with their brand new No. 1 hit single "My Songs Know What You Did In The Day (Light Em Up)," prior to the start of the Sprite Slam Dunk Contest. In addition, RaVaughn will perform the U.S. National Anthem and Michelle Peavy will sing the Canadian National Anthem.
About the Artists
Alicia Keys (RCA Records) - Alicia Keys is a 14-time Grammy® Award winning singer/songwriter/producer, actress, New York Times best-selling author, entrepreneur and humanitarian. Since releasing her debut album, Songs in A Minor, Keys has built an unparalleled repertoire of hits with over 30 million albums sold worldwide. Keys' debut album, Songs in A Minor, was a commercial success, selling over 12 million copies worldwide. She became the best-selling new artist and best-selling R&B artist of 2001. The album earned Keys five Grammy® Awards in 2002, including Best New Artist and Song of the Year for "Fallin." Her second studio album, The Diary of Alicia Keys, was released in 2003 and was also another success worldwide, selling eight million copies. The album garnered an additional four Grammy® Awards in 2005. Later that year, she released her first live album, Unplugged, which debuted at number one in the United States. Keys' third studio album, As I Am, was released in the same year and sold five million copies worldwide, earning Keys an additional three Grammy® Awards. She released her fourth album, The Element of Freedom, in December 2009, which became Keys' first chart-topping album in the United Kingdom. That same year, Billboard magazine named Keys the top R&B artist of the decade. In 2010, VH1 included Keys on its list of the 100 Greatest Artists of All Time. Keys holds the distinction as the first female R&B artist to have three consecutive #1 album debuts on the Billboard 200 album chart.