Why did the Pope resign?
By Eric Marrapodi CNN Belief Blog Editor | 2/11/2013, 6:44 p.m.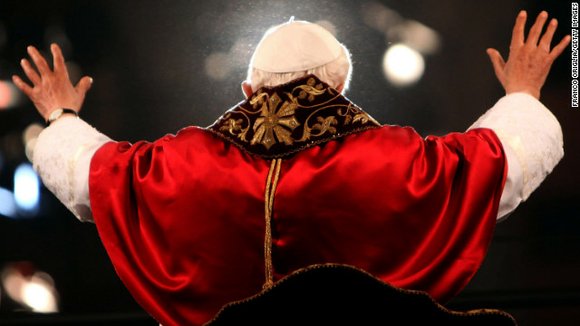 The questions reverberated from the Vatican to every corner of the Catholic world and left a billion members scratching their heads over something not seen since 1415 - why is the pope resigning now?
Pope Benedict XVI, 85, said Monday that it was because of his age.
"I have come to the certainty that my strengths, due to an advanced age, are no longer suited to an adequate exercise of the Petrine ministry," he read in Latin to a group of cardinals gathered to examine causes for canonization.
The pressures may well have been too much for him to bear. As pope he was the bishop of Rome, the head of a tiny country, and spiritual shepherd to a billion people.
'[I]n today's world, subject to so many rapid changes and shaken by questions of deep relevance for the life of faith, in order to govern the barque of Saint Peter and proclaim the Gospel, both strength of mind and body are necessary, strength which in the last few months has deteriorated in me to the extent that I have had to recognize my incapacity to adequately fulfill the ministry entrusted to me," he continued in his statement.
The Rev. Federico Lombardi, head of the Vatican press office, told reporters there was no specific health crisis or disease that forced the pope to make the decision at this time.
Follow the CNN Belief Blog on Twitter
"The basic take is he is stable and could have gone on at a lower level for some time," said John Allen, CNN's senior Vatican analyst. Allen pointed out there were no recent hospitalizations or public falls, and the pope likely "decided rather that he would pull the plug now instead of waiting for disaster."
"Timing is the big shock. We simply had no indication this was coming," Allen said. "The Vatican quite honestly leaks like a sieve. There was no hint this was coming down the pike."
At 78 when he became pope, he was not young man and said at the time he anticipated his papacy would be short.
Before becoming the pope, then-Cardinal Joseph Ratzinger had a quiet retirement in mind. He was serving Pope John Paul II as the head of the Congregation of the Doctrine of Faith, the doctrinal watchdog for the church once called the Inquisition.
In that role, Benedict worked beside Pope John Paul II and watched up close as Parkinson's disease slowly ravaged his predecessor.
When Pope John Paul II died in 2005, Ratzinger was just two years from a forced retirement as a cardinal.
When he was elected by the College of Cardinals to be pope, he joined a line of men that stretched 2,000 years from Jesus' disciple Peter to today.
What is known about the pope's medical history is scant: In 1991 he had a brain hemorrhage, but that did not prevent him from continuing his career. And in 2009 a fall led to a broken wrist. So his decision to leave his post while showing little sign of any ailment has opened the door to speculation.