LeBron and on: James becomes youngest player to 20,000 NBA points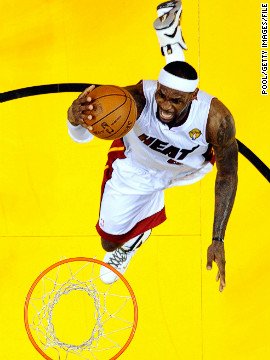 For LeBron James the NBA records just keep on tumbling.
The Miami Heat star notched up 20,000 career points against the Golden State Warriors Wednesday, becoming the youngest player in NBA history to reach the milestone.
And the fact he swiped the title from the other undisputed megastar of the league, Kobe Bryant, will only have added to his satisfaction.
James was the youngest to reach 1,000 and 10,000 points and now at the tender age of 28 years and 17 days, he's reached 20,000 over a year before his LA Lakers rival.
The two are set to go head-to-head on Thursday night as the Heat take on the Lakers in Los Angeles.
A haul of 25 points in the Heat's 92-75 victory over the Warriors secured another slice of history for one of the finest players the NBA has ever seen.
He took to social networking site Twitter to thank teammates and fans alike: "I give everything to the game and I hope it continues to give back to me! Love you so much!
"More importantly I wouldn't be anything without my teammates over these 10 years! Thanks guys. You're the best."
James reiterated his thanks in quotes reported by the Miami Herald: "It was awesome. They've given me an opportunity to be in this position because they trust me on the floor to make plays and make decisions. Both milestones are pretty cool."
Heat coach Erik Spoelstra paid tribute to James' tenacity after he was the victim of some roughhouse tactics from the Warriors.
He added: "Everybody was proud of him. It's a big moment. We gave him the game ball and then everyone took a shot at him -- a punch, a jab, an elbow, whatever they could get in before he started hitting back."
James also racked up assist number 5,000 in the same game, becoming the 13th player in history to reach 20,000 points and 5,000 assists.