State of the Union brings out more of the 'same old, same old'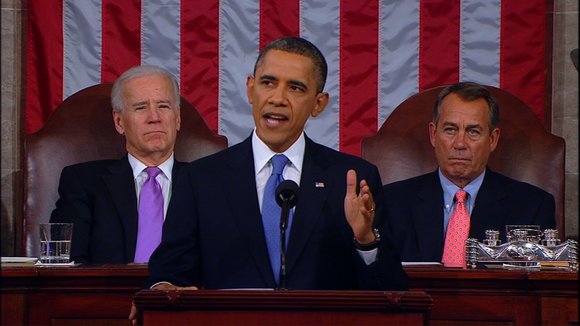 By Tom Cohen
CNN
Both sides agree that a thriving middle class is key to American prosperity, and that tax reform is part of the solution to chronic federal deficits. They both call for finally addressing the issue of undocumented immigrants.
Otherwise, President Barack Obama's first State of the Union address of his second term and the Republican response by rising GOP star Sen. Marco Rubio showed how deeply entrenched each side remains in long-held positions. It all portends continued political dysfunction in Washington.
Obama begins a series of campaign-style appearances on Wednesday with an event in Asheville, North Carolina, to promote the economic themes of his roughly hour-long speech that prodded Republicans to compromise on the major challenges facing the nation.
In his fourth State of the Union address and seventh speech to a joint sitting of Congress, Obama challenged legislators on Tuesday night to join him in taking on "our generation's task" to ignite the growth of a "rising, thriving middle class."
"It is our unfinished task to restore the basic bargain that built this country -- the idea that if you work hard and meet your responsibilities, you can get ahead, no matter where you come from, what you look like, or who you love," Obama said, sounding familiar themes from his re-election campaign last year.
He emphasized economic growth and job creation, and insisted that his proposals would not increase the nation's deficit, though the White House offered no price tag on his initiatives.
Obama also made an emotional plea for Congress to hold votes on controversial proposals for tougher gun laws after the Newtown, Connecticut, shootings in December that killed 20 schoolchildren.
At the same time, Obama called for legislators to work together for the good of the country, saying Americans "expect us to put the nation's interests before party."
"They do expect us to forge reasonable compromise where we can," he said. "For they know that America moves forward only when we do so together, and that the responsibility of improving this union remains the task of us all."
In delivering the Republican message afterward, Rubio signaled little acceptance of what Obama proposed. He repeated longstanding GOP criticism of what he described as job-killing, growth-stunting bigger government.
"Presidents in both parties -- from John F. Kennedy to Ronald Reagan -- have known that our free enterprise economy is the source of our middle-class prosperity," said Rubio, a tea party favorite considered a rising star in the Republican Party. "But President Obama? He believes it's the cause of our problems."
According to Rubio, the president's solution "to virtually every problem we face is for Washington to tax more, borrow more and spend more."
The night of competing messages showed that despite Obama's election victory in November, hopes for a more pragmatic political climate appeared unrealistic.
"In many ways, what we heard tonight is the same old, same old argument," noted CNN Chief Political Analyst Gloria Borger.
Former House Speaker Newt Gingrich told CNN that Rubio helped himself as a Republican leader, while Jennifer Granholm, the former Democratic governor of Michigan, said the Florida senator missed an opportunity to appeal to the political center because he overstated GOP talking points.