Xanax 'helps me be a better mom'
By Shawn Bean, Parenting.com | 2/18/2013, 8:23 p.m.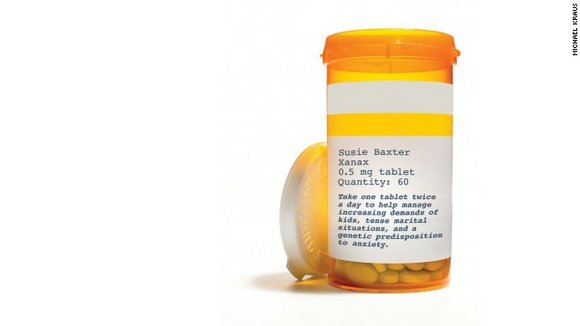 To deal with her depression and anxiety issues, J.D. Bailey does not use prescription drugs. She uses the delicate-fabrics setting on the dryer.
Four years ago, Bailey was prescribed a low dose of Zoloft to offset the postpartum depression that followed the birth of her youngest daughter, Grace. Her doctor later switched the script to Celexa. Thus began a carousel of selective serotonin reuptake inhibitors.
Today, Bailey is not taking anything. For the past few months, her drug of choice has been five minutes in the laundry room.
"Last week I had to step away when my 6-year-old, Annie, was having a full meltdown," says Bailey, who chronicles her depression on her blog, Honest Mom. "I felt like the worst parent in the world because I didn't want to make her feel better. I just wanted to get out of there."
Women more likely to use antidepressants Supermodel's triumph over meds If pregnant, weigh antidepressant risks
Parenting.com: How to de-stress your daily routine
So that's what she did. Bailey went into the laundry room, turned on the dryer, and breathed until "I knew I could be levelheaded, hug her, and talk her through it."
Bailey lives in a suburb of Boston, where children ride bikes in front of split-level colonial homes and locals make brownies for the neighborhood bake sale.
It's the kind of charmed hamlet that teaches an important lesson: Depression and anxiety live everywhere. One in every 10 Americans reports being depressed, according to the Centers for Disease Control and Prevention. Anxiety disorders affect 40 million adults in the U.S.
But parents are arguably the most vulnerable to these issues.
"Parenting is a tough job, one that is exhausting on a good day," says Jenn Berman, a licensed psychotherapist in Beverly Hills and author of "The A to Z Guide to Raising Happy, Confident Kids." "If you're also prone to depression, it can push you over the edge."
Parenting, anxiety and depression
From our children's health to their development to their performance at school, there's always something for moms and dads to be happy -- or anxious -- about.
The common definition of depression states that a multitude of the following symptoms be present for a two-week period: fatigue and decreased energy, feelings of pessimism, overeating or appetite loss, insomnia or early-morning wakefulness, loss of interest in hobbies and activities once found pleasurable, and irritability and restlessness. That describes half the parents I know.
Our awareness of depressive and anxiety issues is at an all-time high (thank you, TV commercials), and our family physicians and OB-GYNs can write scripts as easily as psychiatrists.
It all adds up to our becoming Generation Medication: More than one in five American adults now take at least one type of medication to treat a psychological or behavioral disorder, a 22% rise since 2001, according to an analysis by Express Scripts. The number of women taking antidepressants grew 29% between 2001 and 2010; during that same time period, ADHD drug use among women jumped a staggering 264%.