Inspired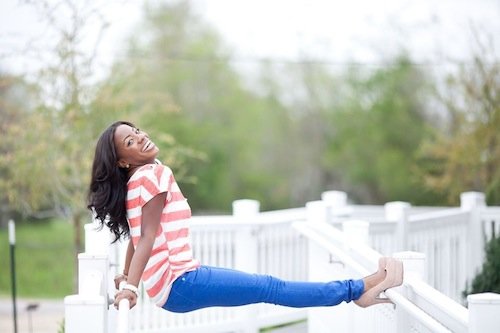 Life doesn't always give us what we want but it will most certainly throw us for loops and leave us hanging upside down, only to have us in the most perfect place at the perfect time doing exactly what we ought to be doing…. If we continue to wait, trust, and never stop moving.
This year, I turned thirty, celebrated the third anniversary of my marriage, and came to grips with the fact that I may never bear a child of my own. (That would be life hanging me upside down from the green shoe strings of my pink Nikes.)
I am infertile.
And, to be clear, no amount of relaxing, breaks, vacations, or new age medicine is going to change that. Current medicine hasn't been too successful either.
And, I'm okay.
It's been a two and a half year journey to mommyhood and regardless of how long you're on this road, this life does not get any easier. I can say that I am a lot tougher and much more at peace with who I am and how I was created. This peace has allowed me to grieve and come to terms with my life while giving me a sense of hope and solidarity that doesn't allow me to remain stagnant.
Thankfully, the hopelessness and confusion has been replaced with determination and drive. And, a feeling of usefulness and pride.
During this journey, I've struggled with continuous grief that danced between the stages of anger and depression. I've finally managed to land the peaceful partner dubbed Acceptance. THANKFULLY!
Over the past year or so, the negative feelings and views of my life have waned greatly. I'd bottled up so much anger within just for being who I was. I was angry at life. At God. At the malfunctioning of my body. Angry at the fact that there were things I would never get to experience. There were days I would just sit numb in darkness because of the tremendous amount of hurt, pain, and sadness I was experiencing. After a few rounds of failed treatments, many hormone shots, medications, and too many difficult days to count, we decided to break and actively try to expand our family the next year. Over that year break, I'd learned to deal with and look at life in a way that I never had before.
While the bursts and waves of pregnancy announcements are still difficult to deal with at times, they bothers me a lot less. I've learned to truly trust God with my life and accept His plan. Learning to let go of my own plans has allowed me to let go of the responsibility of making the happen that I couldn't control, and to rely on Him for everything – my happiness included. I now have a hope and new outlook that is allowing me to see the range of possibilities that were always available but never realized. It is, and I think will forever be, difficult to truly be alright with never experiencing pregnancy. But, I know that regardless of what happens – I am going to make the best of the opportunities I have been blessed with and thrive in the position I'm in.