Watt Named AP Defensive Player of the Year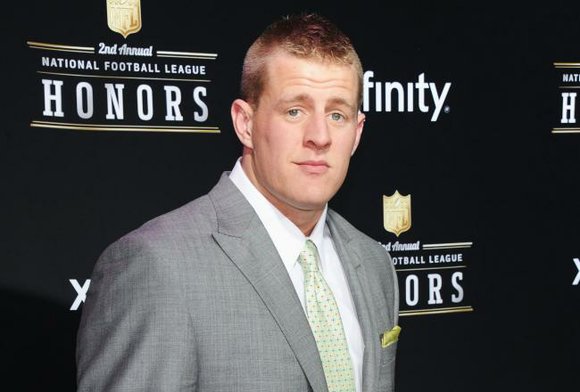 DE J.J. Watt was named the Associated Press Defen- sive Player of the Year at the second-annual NFL Hon- ors gala on Feb. 2 in New Orleans, La.
Watt was the first Houston Texans player to earn a League-wide player of the year award. He was the first defensive lineman to be recognized since Miami DE Ja- son Taylor won it in 2006 and the 17th defensive lineman to be named AP Defensive Player of the Year and the
eighth defensive end. The AP has presented the Defensive Player of the Year since 1971,
when Minnesota DT Alan Page won the award. The award is determined by a 50-member panel of national pro football writers, with one vote cast per voter.
Watt (6-5, 295) led the NFL with 20.5 sacks, which tied for the sixth- most in a season in NFL history, and his 16 passes defensed were the most in League history by a defensive lineman. He became the only player in NFL history with at least 14 sacks and 14 passes defensed in the same season.
Watt led the Texans defense with 107 tackles, 39 tackles for loss, 42 quarterback hits, four forced fumbles. He tied for second on the team with two fumble recoveries. According to a review of the official play- by-plays from each game this season, Watt contributed to 95 plays that either resulted in no gain or negative yardage, including tackles for loss and tackles for no gain, passes defensed, quarterback hits on passes that fell incomplete, sacks, forced fumbles that resulted in turnovers and fumble recoveries.
"He's had the absolute best year any defensive lineman has ever had," defensive coordinator Wade Phillips said. "And I had Elvin Bethea, who's in the Hall of Fame, and he had some great years, and Bruce Smith had some great years, and Reggie White had some great years, but they didn't make that many tackles, that many tackles for loss, that many knockdowns and that many sacks in one year. Nobody has done that, so I can't say enough great things about him because he's a great player."
Watt was one of two unanimous selections to the AP All-Pro team, along with Minnesota RB Adrian Peterson, and was voted into his first Pro Bowl as a starter on the AFC team. He was also named the Pro Football Weekly/PFWA Defensive Most Valuable Player this season and was named the AFC Defensive Player of the Year by Kansas City-based group NFL 101.
He earned AFC Defensive Player of the Month honors for September and December, becoming the only player in franchise history to win the award twice in one season. Watt was also voted as the Texans' Most Valuable Player by his teammates and was named to USA Football's All-Fundamentals Team for his ability to maneuver into passing lanes and bat down passes.