Pep Squad: Peplums Still Hot for Spring and Fall 2013
Lindsay Buchanan | 2/21/2013, 1 p.m. | Updated on 2/21/2013, 1 p.m.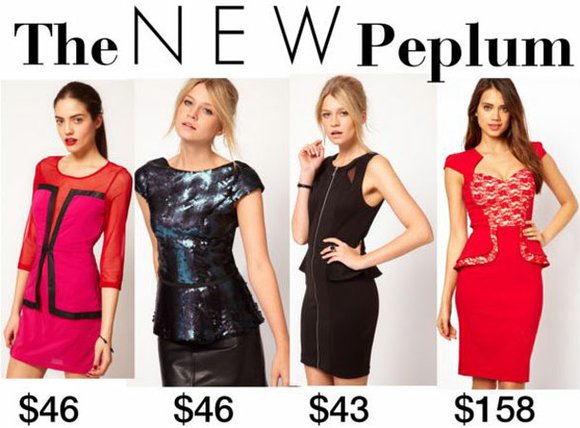 Fall 2013 New York Fashion Week just ended, and I'm still reeling from all the amazing new pieces that were presented at Lincoln Center. I was pleased to find that designers featured a remarkable amount of peplum tops, skirts, and dresses.
This tented-out, universally flattering cut has been gracing international runways for about three fashion seasons now. I'm kind of astounded that designers are still using them! Three seasons is like eons in the fashion industry.
The peplum gives boyish figures a more sultry shape, accentuates natural curves, and minimizes problem areas like larger tummies.
The new peplums that designers are choosing to showcase are a little more subtle and understated than the peplums of seasons' past. They don't tent out as much as previous styles, asymmetrical, and they are usually seamless and not pleated.
Try a drop-waist peplum to lengthen a short torso. The hybrid peplum accentuates a shapely hip. Wear it with sky-high heels or a cropped jacket for a trendy take on the style. Try a slimmer, more understated peplum in a bright hue to add some fun and color to your spring and summer wardrobe.
Of course, you don't have to buy these new versions. The best thing about peplums staying in vogue is that you get to save money in your spring wardrobe budget by repurposing your old peplum pieces! Keep your peplums from last season and rock them with outlandish accessories, bold color combos, and fierce makeup to update the look! Happy dressing!