Scotland's Roman Catholic archbishop, mired in abuse claim, resigns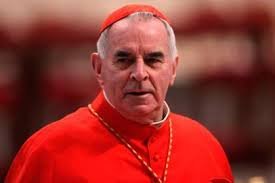 Scotland's Roman Catholic archbishop, Cardinal Keith O'Brien, has resigned amid allegations that he abused four men studying to be priests in the 1980s.
It is the second potential scandal to emerge amid preparations for the resignation of Pope Benedict XVI this week and the conclave to select a successor.
In addition to O'Brien's resignation, Italian media has been abuzz in recent days with allegations that gay clergy may have made themselves vulnerable to blackmail by male prostitutes. That has set off speculation -- denied by the Vatican -- that a brewing scandal may have triggered Benedict's resignation.
O'Brien said he submitted his resignation to the pope months ago, citing his upcoming 75th birthday and his health, according to a statement released by the Scottish Catholic Media Office. Benedict accepted his resignation last week, the Vatican said Monday.
The resignation follows a Sunday report by the British newspaper The Observer that three priests and one former priest leveled allegations against O'Brien that date back 30 years.
Vatican denies latest scandal claims The final days of Benedict XVI's papacy Key moments in pope's resignation
The Observer did not recount details of the claims or identify any of O'Brien's accusers, but said one of the priests alleged "that the cardinal developed an inappropriate relationship with him."
O'Brien did not attend Mass at St. Mary's Cathedral in Edinburgh on Sunday, but the Scottish Catholic Media Office told CNN that the cardinal "contests these claims and is taking legal advice."
His accusers took their complaints to the Vatican representative in Britain and demanded O'Brien's resignation, The Observer reported. At the Vatican, Father Federico Lombardi, a spokesman for the church, told reporters that Benedict has been informed of the allegations.
The Irish-born O'Brien originally was scheduled to retire on March 17 -- St. Patrick's Day and his 75th birthday.
As late as last week, he appeared to be making plans to take part in the conclave, when the College of Cardinals gathers in Rome to pick a successor to Benedict.
But he said Monday that he would not be part of that gathering.
"I do not wish media attention in Rome to be focused on me -- but rather on Pope Benedict XVI and on his successor," O'Brien said in a statement released by the Scottish Catholic Media Office.
"I have valued the opportunity of serving the people of Scotland and overseas in various ways since becoming a priest. Looking back over my years of ministry: For any good I have been able to do, I thank God. For any failures, I apologise to all whom I have offended."
The allegations surrounding O'Brien add to the scandals already clouding Benedict's resignation, including lingering concerns over how the church has handled issues concerning sexual abuse by priests. The allegations about possible blackmail against gay priests are the latest to fuel speculation about Benedict's sudden and highly unusual resignation