Rodeo Season: The Do's and Don'ts of Western Wear
Style Magazine Newswire | 2/28/2013, 12:42 p.m. | Updated on 2/28/2013, 12:42 p.m.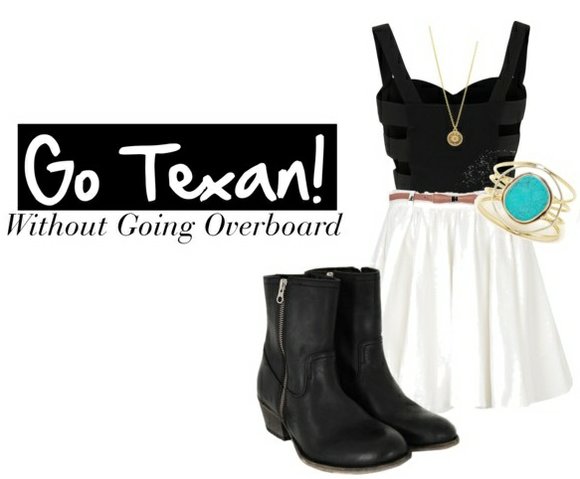 The Houston Livestock Show and Rodeo is coming up! I'm particularly thrilled this year because I'm coming home from D.C. to attend the annual festivities for the first rodeo in about 2 years. I may be a little overzealous, but I'm already planning my rodeo outfit.
Rodeo season can be a sartorially stressful time of year! Just the thought of walking into a Cavender's store around Go Texan Day gives me the shivers. Besides long lines, there is also always a dilemma about what to wear!
The rodeo is a huge social and cultural event, so you want to look your best. However, it also involves lots of standing, walking, and outdoor activity, so you can't look as glam as you might otherwise. Although rodeo style requires a delicate balance, there is a way to look Western and chic without looking like you just came from working long hours on the farm.
Flat shoes are a given. I am always impressed when I see women walking around the rodeo carnival with their beaus in sky-high heels. However, I wouldn't want to be one of these lovely ladies. Even the most skilled stiletto fan's feet will be killing them after hours of dancing in Reliant and waiting in line for the Rodeo shuttle buses.
I usually opt for a pair of cowboy boots. If you're in the market for a new pair of boots, order your new pair on Zappos. You'll end up skipping long lines at the western wear apparel store, and you're more likely to find wide or narrow styles in your size.
The key to chic western wear dressing is to keep it simple. Many people over-do the getup and end up looking like a Clampett relative. Don't wear every stereotypical western trend at once. Try to wear only two traditional western trends at a time.
For instance, if you really want to wear your jean shorts and your turquoise necklace, pair it with a plain black top and sandals. If your boots and your flannel button-down are calling your name, tone down the look with a pair of black leggings or a pair of stylish slim-fit jeans. Pair a maxi-skirt and cowboy boots combo with a plain tank and luxe accessories. Follow that rule, and you'll be the most stylish woman at the livestock show.
Happy dressing, and I hope to see you at Reliant Park!