America's Luxury Beer Vacations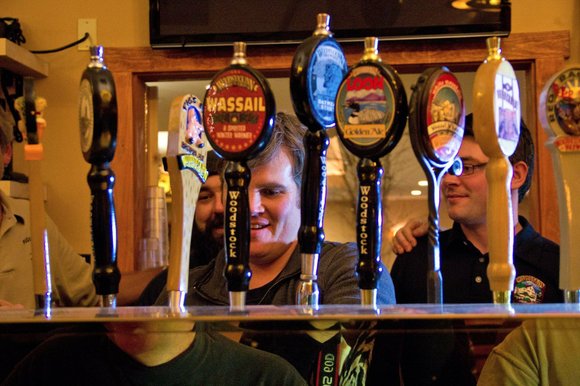 America's luxury beer vacations
By Sarah Bennett
for CNN
Beer doesn't readily inspire plans for opulent vacations or deluxe retreats the way its alcoholic rival, wine, does.
But as "microbrews" have become "craft beers" in recent years, the level of sophistication surrounding beer culture has also been elevated.
While the proletarian potable is still most commonly found guzzled in sports bars and on front porches, the United States is now filled with exclusive beer-themed getaways that are as upscale as the wine-iest holiday.
From cushy resorts that have a brewpub on site to working brewery farms with bespoke lodging, "beercations" combine relaxing destinations exalting the endless combinations derived from water, malt, yeast and hops.
Here are 10 ways to experience the world of ritzy suds.
Woodstock Inn Station and Brewery, North Woodstock, New Hampshire
In the center of White Mountain National Forest's recreational wonderland is a combination brewery and inn that's quickly outgrown its modest roots.
After 17 years serving house-made (and award-winning) favorites such as Pig's Ear Brown Ale and Pemi Pale Ale, Woodstock Inn Brewery is expanding into a new building that will house a bottling line and event space.
Comprised of six buildings spread throughout North Woodstock's downtown area, each of the inn's 36 rooms is designed with rustic furnishings and home-style décor inspired by the breathtaking scenery surrounding the small town.
Book a trip during frequent Brewer's Weekends and you'll get an all-inclusive, beer-themed holiday complete with beer-pairing dinners, commemorative swag and a full day in the brewhouse learning how beers are made.
Woodstock Inn Station and Brewery, 135 Main St., North Woodstock, New Hampshire; 603-745-3951; from $97 per night
Trapp Family Lodge, Stowe, Vermont
While Maria von Trapp's memoir on the Trapp Family Singers was being fictionalized into the Rodgers and Hammerstein musical "The Sound of Music," Maria, "The Captain" and their clan were busy welcoming guests to their Trapp Family Lodge in snowy New England.
Today, the 2,700-acre property outside Stowe hosts "Sound of Music" reunions and remains managed by third generation von Trapps.
There's been one important addition -- a lager brewery.
Trapp Lagers was the brainchild of Johannes von Trapp, the only son of Maria and Georg Ritter von Trapp who, along with Johannes, helmed the resort for decades.
In 2010, Johannes followed through on a longtime dream and built a traditional Austrian microbrewery that makes helles, amber and dunkel lagers year-round for the lodge's guests.
With a major brewery expansion in the works and a Beer Lover's vacation package on the menu, you can visit the Alps (sort of) without leaving the States.
Trapp Family Lodge, 700 Trapp Hill Road, Stowe, Vermont; 800-826-7000; from $225 per night
Norwich Inn/Jasper Murdock Alehouse, Norwich, Vermont
Like its namesake English city, Norwich has a long established brewing tradition.
When the Norwich Inn was founded in 1797, there were no commercial breweries in the state -- beers were made in small batches at taverns and served to guests such as future president James Monroe, who dined here while on a horseback tour of the then-frontier.