PVAMU Family Mourns the Loss of Dr. Charles Hines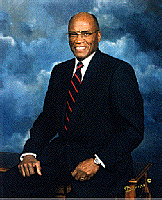 The PVAMU family mourns the loss of the sixth president of Prairie View A&M University, Dr. Charles A. Hines, who passed away Thursday, July 4. Appointed in October 1994, Dr. Hines served the University until 2002.
A native of Washington D.C., Hines earned a bachelor's degree from Howard University. Upon graduation, he entered the United States Army, where he served for more than 38
years, retiring with the rank of Major General.
"The life and legacy of Dr. Charles Hines has contributed to the advancement of education and our university in ways that will last for years to come, " said Dr. George C. Wright. "Prairie View A&M is fortunate to have had his leadership. Our prayers go out to his family."
Among his achievements as president, were the privatization of student housing, the development of several new buildings including the E. E. O'Banion Science Building, the Willie A. Tempton Sr. Memorial Student Center and establishment of University College.
Hines also oversaw the University's role in the Office of Civil Rights (OCR) settlement that resulted in the Texas Commitment funding for four new buildings, additional master's and doctoral degree programs and dollars for development initiatives, student scholarships and endowed chairs.
A Memorial Mass will be held:
Friday, July 12, 2013 @ 11:00 a.m.
St. Mary's Catholic Church
3006 Rosedale Street
Houston, Texas 77004