Reprieve: When will White House Transfer Cleared Gitmo Prisoners?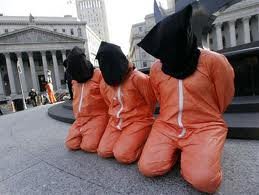 By Cori Crider
Special to CNN
If you were disturbed yesterday by the video we released of Yasiin Bey (aka Mos Def) being force-fed like a Guantánamo prisoner, please consider: right now this is happening 90 times a day at Guantánamo Bay. (If you haven't seen it yet, the video is here. You may find the images distressing.)
In fact, what you saw slightly understates what Reprieve's clients and many others go through twice daily. After all, Bey volunteered for the procedure and could stop it anytime. Yet still it hurt him. The reason for this is that when you are nervous, as he naturally was, your throat tends to tense and catches the tube. Our doctors tried to intubate him twice but just couldn't get the tube through. And you see for yourself how violated he felt by the end.
This is the process Guantánamo's PR staff try to whitewash with the bland term "enteral feeding." In the real thing, a team of soldiers in riot gear come for my hunger-striking clients, like Nabil Hadjarab or Samir Moqbel. After weeks of starvation the men are shrivelled, weak, and 10 times as afraid as Bey was. When the military straps them into the chair, not a word they can say will stop the procedure. And if they feel ill and throw up, as force-fed prisoners sometimes do, the military will just repeat the grim business all over again.
The overwhelming reaction from Twitter and the web yesterday was disgust that this could happen in America. Yet it is, and the most worrying part is: it doesn't need to. President Obama could end the strike tomorrow with one decisive step -- he could start to transfer cleared prisoners. Eighty-six of the men (a majority of those left) have been cleared by the U.S. government, and it has the power to issue waivers so that these men can be transferred.
My clients have consistently stated they will consider eating again when they see a cleared man go home. This is much more achievable than the Obama administration would have us believe. This week, White House press secretary Jay Carney pointed to a Congressional moratorium on detainee transfers to Yemen, and said Obama "calls on Congress to work with him to ensure we can lift the ban." However, Carney -- and Obama -- conveniently ignore those cases for which there is no obstruction to release beyond the White House's lack of political will.
This is especially true where cleared men are slated to go to close U.S. allies. One of my clients, Shaker Aamer, a cleared hunger-striker, could be on a plane to London within a week -- the UK Prime Minister David Cameron has asked for him back. Another cleared client, Nabil Hadjarab, has family in France waiting to welcome him. And there are more like him. The best way for Obama to stop the strike is to show that he's serious about closing Guantanamo -- and the best way to do that is to release one of these men, a move for which he does not need Congressional approval.