ESSENCE Sparks National Conversation On Racial Profiling With #HeIsNotASuspect Social Media Campaign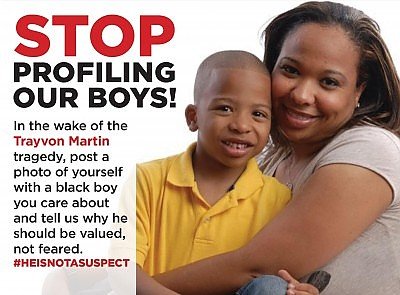 ANNOUNCES GOAL TO GARNER 20,000 POSTS CELEBRATING AFRICAN-AMERICAN MEN TO COMMEMORATE THE 50TH ANNIVERSARY OF THE MARCH ON WASHINGTON
THOUSANDS HAVE ALREADY JOINED THE MOVEMENT TO DISPEL NEGATIVE STEREOTYPES OF YOUNG AFRICAN-AMERICAN MEN
STEVE HARVEY, REV. AL SHARPTON, IYANLA VANZANT, DONNA BRAZILE, TERRY McMILLAN, ROLAND MARTIN, DR. IAN SMITH, BISHOP NOEL JONES, DR. STEVE PERRY, CHEF ROBLE, LALA ANTHONY AND VICTORIA ROWELL, AMONG MANY OTHERS STAND WITH ESSENCE TO PROMOTE POSITIVE IMAGES OF YOUNG BLACK MEN
ESSENCE, the preeminent media brand for African-American women, is driving the conversation around the issue of racial profiling with an impassioned counter-stereotyping social media campaign, #HeIsNotASuspect. Thousands have joined the movement – with close to 10,000 taking to Facebook, Twitter, and Instagram to respond to ESSENCE's powerful call to action aimed at stopping profiling among young Black men. Today, ESSENCE announced its goal to garner 20,000 #HeIsNotASuspect posts celebrating African-American men by August 28, 2013 in commemoration of the historic March on Washington.
This critical dialogue began on the pages of ESSENCE magazine with an award-winning article in the June 2012 issue titled, The Danger Outside: How Can We Protect Our Black Boys?, and has continued throughout 2013 with Guns Down, an editorial series exploring how gun violence impacts our communities. The conversation was also brought to life at this summer's 19th annual ESSENCE Festival, where a panel of mayors moderated by Rev. Al Sharpton, including Newark Mayor Corey Booker, Atlanta Mayor Kasim Reed and New Orleans Mayor Mitch Landrieu convened to discuss the culture of violence in urban communities. In addition, ESSENCE, in partnership with the City of New Orleans, hosted Love, Loss & Life at the ESSENCE Festival as a special prayer vigil for mothers who have lost children to gun violence. Now, #HeIsNotASuspect extends the conversation to social media; providing a personal platform to continue the dialogue.
African-American mothers, fathers, aunts, uncles, grandmothers and grandfathers have uploaded a photo of themselves and a young Black man they care about—a son, brother, nephew, cousin, neighbor—telling ESSENCE why he's so much more than a stereotype, and using the hashtag #HeIsNotASuspect. The grassroots effort has also gained traction with traditional media outlets around the world, including BBC, CNN, HLN, NBC, Time, Steve Harvey Morning Show, among others, in direct response to the George Zimmerman verdict. Additionally, some of the country's most influential leaders and personalities, including Steve Harvey, Iyanla Vanzant, Terry McMillan, Roland Martin, Donna Brazile, Dr. Ian Smith, Bishop Noel Jones, Dr. Steve Perry, LaLa Anthony, Chef Roble and Victoria Rowell among many others, have taken a stand in support of this initiative.
"As more than 100 rallies took place across the country this past weekend in response to the Zimmerman verdict, our community of ESSENCE readers are actively engaged in an important national dialogue about saving our sons from negative profiling," said ESSENCE Acting Managing Editor, Vanessa K. Bush. "ESSENCE's #HeIsNotASuspect campaign offers a forum for our community to take control of our stories and declare to the world that young Black men are to be celebrated, not feared. Please join the conversation by posting your heartfelt words and images to help us reach our goal of 20,000!"
For more on this campaign, visit Essence.com/heisnotasuspect.
Comments from the ESSENCE community:
"Thank you Essence for creating this platform allowing our voices to be heard… #HeIsNotASuspect gives me hope that something meaningful and great will surface out of the death of Trayvon Martin." —Peggy Carter, on ESSENCE.com
"HeIsNotASuspect is a beautiful example of the power of positive imagery. Can we see more faces like this on film & TV, please?" —@LeahRaeder, via Twitter
"The #HeIsNotASuspect tag is so touching – a reminder that the anti-racist fight saves lives." —@muteshark, via Twitter
"loving all the smiles and the mothers' pride from #HeIsNotASuspect." —@sheseesred, via Twitter
From a tweeter in Liverpool, England: "#heisnotasuspect is a sobering search. Try it." —@waroftwoworlds
"There is only one #ff possible today, and it's bringing a lump to my throat. It's a hashtag, not a person. It's #HeIsNotASuspect." @TraceyBVoice, via Twitter
About Essence Communications Inc.:
Essence Communications Inc. (ECI) is the number one media company dedicated to African-American women, with a multi-platform presence in publishing, live events, and online. The company's flagship publication, ESSENCE magazine, is the preeminent lifestyle magazine for African-American women; generating brand extensions such as the Essence Festival, ESSENCE Black Women in Hollywood and Black Women in Music, Window on Our Women and Smart Beauty consumer insights series, the Essence Book Club, Essence.com, and ventures in digital media (mobile, television and VOD). For 43 years, ESSENCE, which has a brand reach of over 9.8 million, has been the leading source of cutting-edge information and specific solutions relating to every area of African-American women's lives. Additional information about ECI and ESSENCE is available at www.essence.com.