U.S. Attorney General Eric Holder's Remarks at the 2013 National Urban League Conference
Style Magazine Newswire | 7/25/2013, 1:15 p.m. | Updated on 7/25/2013, 1:15 p.m.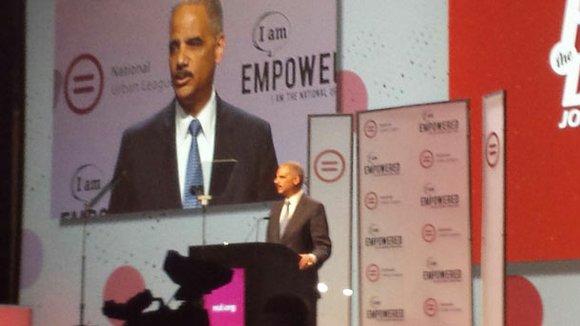 ( Philadelphia, PA ) - Thank you, Marc [Morial], for those kind words – and thank you all for such a warm welcome. It's a privilege to join every member of the National Urban League, both in this room and far beyond it, in renewing our shared commitment to the cause of equality. I'd particularly like to recognize my good friend Maudine Cooper, President and CEO of the Greater Washington Urban League, who is retiring this year after more than two decades of service to the Urban League movement. Thank you for your contributions Maudine and your unwavering support. It's an honor to stand alongside you and your colleagues this week as we continue the fight for social and economic justice – and carry forward the legacy of progress and achievement that has defined this organization for more than a century.
Since your founders first came together – in 1910, in my hometown of New York City – to combat discrimination and segregation in every sector of society, the National Urban League has distinguished itself through principled advocacy. In the era of Jim Crow and "separate but equal," your members and leaders provided assistance and inspiration to citizens of every age, race, background, and walk of life. They helped to build the strength of the Civil Rights Movement, to rally generations to the cause of equality, and to realize the enduring promise of the American dream.
As we come together in Philadelphia today, the National Urban League continues to remind leaders, organizers, and advocates across America that – in the work of building a more perfect Union – each of us has an essential role to play. And you're showing that we all have important responsibilities to fulfill.
This is particularly evident this year, as we assemble for your Annual Conference in the city where our Republic was born; in a moment of both challenge and opportunity; during a summer defined by historic milestones. Next month, our nation will mark the 50th anniversary of the March on Washington for Jobs and Freedom – which this organization helped to facilitate – when the Reverend Dr. Martin Luther King, Jr. stood before a quarter million civil rights supporters, shared his audacious dream with all the world, and called his fellow citizens to the pursuit of a truth first articulated in a colonial meeting hall not far from where we gather today – the notion that all are created equal and deserving of equal opportunity and treatment.
This is the ideal that has shaped this organization, and guided our country's steps forward, through the turbulent events of the last century. And it's the uniquely American principle that has led us to attain once-unimaginable progress over the years – in expanding economic opportunity, overturning legal discrimination, and attempting to ensure access to the ballot box for every eligible citizen.
There's no question that we have much to be proud of, and encouraged by, as we meet to celebrate the acts of courage and selflessness that have led the National Urban League to this moment. But there's also no denying that your work – our work – is anything but complete. Our journey is not yet over. And today, despite all that you've helped to accomplish, our important struggle must go on.