Sheryl Swoopes Nine for IX Preview
Kim Davis | 7/30/2013, 7:02 a.m.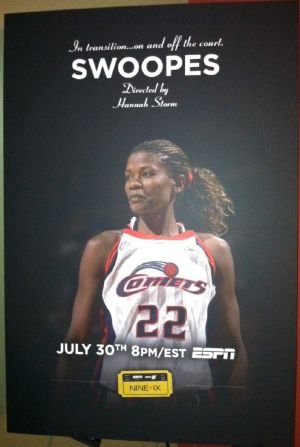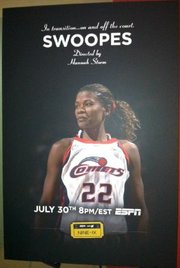 When ESPN airs it's next documentary from the series "Nine for IX", former Houston Comets star Sheryl Swoopes will be telling her story. ESPN anchor and former Houston broadcaster Hannah Storm is the director. Swoopes and Storm were in town last week for the film's premier at the River Oaks Theater. It is certainly a film worth watching, especially if you were a Comets' fan, a fan of women's basketball or if you just like good stories.
"It's not what everybody is saying what everybody else thinks," said Swoopes". It's my life. It is me telling it from my point of view because it happened to me." She acknowledged there is probably nothing in the film you can't find online, however the fact that she is telling her story let's us know it is real. Swoopes holds nothing back. She talks about everything from her days as a freshman at Texas when she got homesick and transferred to being the face of the WNBA and starting the inaugural season on the sidelines and more.
Storm said she felt a responsibility to deliver the story in as honest a way as possible. "It's so hard to do what she did and be so honest," Storm says of Swoopes. "One of the most impressive things she did was to talk about her financial woes and to say I don't have anyone to blame but myself. To take ownership of every decision and everything she did in her life." That is part of what makes this story so powerful. Swoopes lived it, owns it and is sharing it for the world to see and hopefully learn from.
The film includes interviews with former Comets players Tina Thompson and Cynthia Cooper as well as Comets Coach Van Chancellor. NBA Commissioner David Stern and former WNBA chief Val Ackerman also weighed in, as did Houston Chronicle reporter Dale Robertson. Storm says she wanted Swoopes to be the primary voice of the film. The other voices are people who were either intimately connected to Swoopes, the Comets, had covered them in the media and of course her family.
Swoopes gave Storm a list of people to interview and gives the film thumbs up. However, she admits being just a tad nervous about what those interviewed might say. "We had some real moments in practice that a lot of people didn't see or hear or know about," she said. "So to have Coop and Tina do an interview I'm sitting her going… on my God what are they going to say? The finished product is real and genuine and that's what I wanted. Even Dale's comments… even though I don't agree with him that I should have stayed at Texas."
There was laughter and a few tears as the theater crowd watched the film unfold. When Swoopes talked about Kim Perot, the Comets' feisty, talented point guard and emotional leader who lost her battle with lung cancer, there wasn't a dry eye in the room. Storm says not only was it important for her to share Swoopes' story, but didn't want people to forget about Perot or the Comets. In fact, without this film she doubts anyone would be talking about Perot or the comets.
Storm said it was important for her to portrait Swoopes as a groundbreaker on so many levels. "As a mother, of course as a basketball player and as an endorser. If Nike and Air Swoopes doesn't go well, you're not seeing what happened on the back end for other women. Then her honesty about her sexuality. You don't see a Brittney Griner able to talk about herself the way she does if not for Sheryl."
Robertson also attended the premier and said Swoopes' story brings Title IX full circle. "The Comets were a professional basketball team. They weren't a group of sweet young women. They were professional basketball players who were very good… had issues… just like the Houston Rockets players Hakeem Olajuwon, Clyde Drexler and Charles Barkley… there was no difference. Sheryl ran into problems that a lot of male professional athletes have run into." He said at the end of the day, she was a professional athlete at the top of her profession on a team that was as good as any team every cheered for in the city of Houston.
The Swoopes "Nine for IX" documentary airs Tuesday, July 30th at 7:30 CST on ESPN.