Nominating Window is Open for Hispanic Leaders in Small and Big Business, Civic, Community, and Education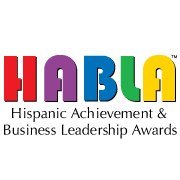 As a city known for its steady Hispanic population growth as well as giving rise to Hispanic entrepreneurs, executives, civic officials, community leaders, and budding students, it is fitting that 2013 marks the debut of the Hispanic Achievement and Business Leadership Awards (HABLA) program in Houston. With the HABLA nominations now open through September 16th, judges will have a wealth of talented local Hispanic business and civic leaders, who have made meaningful contributions to the community, to choose from.

The 2013 HABLA program, which is held during Hispanic Heritage Month in Atlanta, Charlotte, and Orlando as well, will recognize the accomplishments of Hispanics as nominated by the community at large in the following four categories: corporate executive, civic, entrepreneur, and unsung hero. In addition to recognizing Hispanic professionals and community leaders, the program is an opportunity for budding Hispanic students to be acknowledged for their contributions as they evolve into tomorrow's leaders. Verizon, the presenting sponsor for HABLA, has established a $5,000 scholarship for rising Hispanic students. The scholarship will be awarded to a deserving high school senior entering college in the fall of 2014 or currently attending college as a freshman.
"Each day Hispanic leaders in business and the community as well as students are living their true entrepreneurial spirit and accomplishing great feats," said Krista Bourne, president – Houston/Gulf Coast Region, Verizon Wireless. "Hispanic Heritage Month is a perfect time to highlight these achievements while at the same time inspire others to sustain this momentum in order to help the city, state, and country thrive."
As a Hispanic Heritage Month celebration, the award winners will be announced on Thursday, October 3rd during the HABLA luncheon, produced by Lanza Group, at The Petroleum Club of Houston. To nominate a corporate, civic, entrepreneur, unsung hero or student, please visit HABLAawards.com. All entries must be received by to 11:59 p.m. Monday, September 16th 2013. For tickets to attend the HABLA luncheon please visit HABLAawards.com or HABLA Awards on Facebook.