Alice in Wonderland
Main Street Theater – Chelsea Market
Style Magazine Newswire | 6/3/2013, 11:28 a.m. | Updated on 6/3/2013, 11:28 a.m.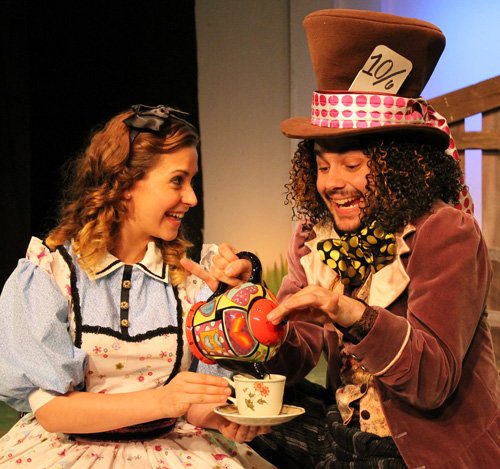 FACT SHEET / CALENDAR LISTING:
Alice in Wonderland
Adaptation, Book & Lyrics by Jim Eiler / Music by Jim Eiler & Jeanne Bargy
Based on the book by Lewis Carroll
Directed by Jimmy Phillips / Musical Direction by Steven Jones
LOCATION: MAIN STREET THEATER – CHELSEA MARKET, 4617 Montrose Blvd., Houston, TX 77006
DATES & TIMES:
Saturdays at 2pm and 5pm / Sundays at 2pm /
Special weekday performances: June 24 – 27 and July 1 – 5, 2013 (no show July 4) at 1:30pm
PAGE TO STAGE BOOKCLUB MEETING:
On Saturday, June 8, MST will hold its Page to Stage book club meeting at the Blue Willow Bookshop at 10am. The club meets over the course of the season to talk about the books the MST Theater for Youth plays are based on, meet characters from the books, have a snack, make crafts, and hear a reading from the book. Children can bring their own copy of the book or purchase it at a discount at Blue Willow (located at 14532 Memorial Drive (at Dairy Ashford)). To RSVP for the book club, send an email to vstjohn@mainstreettheater.com.
WONDERLAND BALL:
On Sunday, June 23, the Queen of Hearts requests your presence to join Alice and her other wacky friends at the Wonderland Ball. Walk the chessboard, enjoy some Mad Hatter treats, make some crazy crafts and participate in a wonderland auction. But don't be late for this very important date – the 2pm performance is included. Tickets: $40 per person. A benefit for MST's Education and Outreach programs. The event begins at 12:30pm on June 23.
PLAY SYNOPSIS:
For over 150 years, Alice In Wonderland has captivated children with its timeless and whimsical story of Alice's strange adventures down the rabbit hole, where she unexpectedly changes size, attends a tea party with the March Hare and the Mad Hatter, and even testifies at the trial of a knave who has stolen some tarts from the Queen of Hearts!
Recommended for Pre-Kindergarten and up. No children under 3 allowed in the theater (including sleeping babies).
TICKET PRICES AND DISCOUNTS: $12 - $16 (Group rates (10 or more) available.)
BOX OFFICE INFORMATION:
Advance tickets for ALL Main Street Theater Productions, on sale at the Main Street Theater Box Office:
Main Street Theater – Rice Village, 2540 Times Blvd., Houston, TX 77005
Information & Charge by Phone: 713.524.6706
Charge Online: mainstreettheater.com
Credit Cards: VISA, MC, AMEX, DISC
WEBSITE: MainStreetTheater.com