Missouri City Mom Delivers 'Miracle Baby' at Methodist Sugar Land Hospital
Quick response from coworkers and staff at MSLH saves baby and mom following medical emergency
Style Magazine Newswire | 6/4/2013, 3:30 p.m. | Updated on 6/4/2013, 3:30 p.m.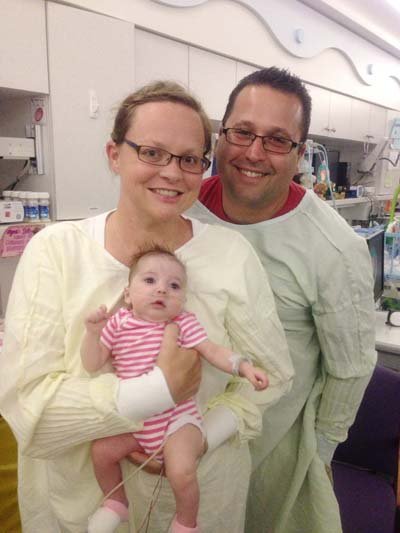 Physicians at Methodist Sugar Land Hospital (MSLH) call little Elayna Nigrelli a "miracle baby," and with good reason.
Elayna was born via post-mortem Cesarean section following a medical emergency that caused her pregnant mother Erica's heart to stop beating for more than 20 minutes. But thanks to the intervention of coworkers, emergency medical personnel and the staff at Methodist Sugar Land Hospital, Elayna and Erica are alive and doing well.
"This is a situation that most doctors would maybe only see once in a career, if that," says Dr. Brian Heaps, the Sugar Land obstetrician who delivered Elayna. "Generally speaking, the prognosis for mom and baby following a cardiac incident isn't very good. This really is a miracle."
One morning in February, Erica – a teacher at Elkins High School in Missouri City – began feeling ill at work. She was 36 weeks pregnant and assumed that her symptoms were typical.
But in an instant, Erica collapsed in front of a coworker. Her husband Nathan, who also teaches at the school, was in a nearby classroom and heard the commotion. He arrived to find his wife on the floor, not breathing and with no pulse. He quickly called 911, and the school's two nurses and a coach trained in first aid jumped in to help. The coach began cardio-pulmonary resuscitation while the nurses administered an automatic external defibrillator, or AED, until the ambulance arrived.
At Methodist Sugar Land Hospital, Emergency Department physician Dr. Shawn Baichoo was going about routine duties when he heard a quick mention on the scanner radio about "CPR" and "eight months." The report said the patient was headed to MSLH.
"At the time, I didn't know if the emergency medical technician was referring to an eight-month-old baby or a woman who was eight months pregnant," Dr. Baichoo says. "But I knew either way it was a very serious situation."
Dr. Baichoo and his staff prepared for Erica's arrival, which was imminent. "We pulled together the nurses that needed to be involved and we paged for assistance from any physicians who were in the hospital at that moment," he said. "Within minutes we had a full team, with obstetrics, neonatology, radiology and anesthesia all represented."
Dr. Heaps was in his office next door to the hospital that morning, seeing a patient, when he received an emergent call from the Emergency Department informing him that a pregnant woman in cardiac arrest was en route – and his services were needed.
"I apologized to my patient and literally sprinted across the parking lot to the ER," says Dr. Heaps.
Shortly after, EMS personnel wheeled Erica into the hospital, and Drs. Heaps and Baichoo learned that she had been unconscious – without a pulse and without breathing on her own – for approximately 25 minutes.
The window of opportunity for a successful medical intervention in a post-mortem C-section is typically seconds to minutes. "So we didn't waste any time," says Dr. Heaps. Dr. Baichoo and the Emergency Department staff continued to resuscitate the mother as Dr. Heaps and fellow obstetrician Dr. Patricia Mitchell, performed a C-section right there in the examining room.