Signature Houston Restaurants Heat Up The Summer With Chef Series For A Fine Dining Experience
Style Magazine Newswire | 6/4/2013, 3:42 p.m. | Updated on 6/4/2013, 3:42 p.m.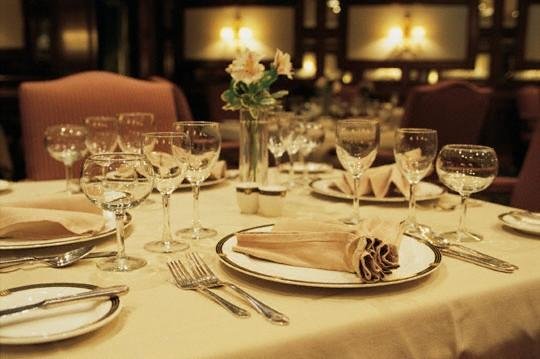 Landry's Inc. Signature Group restaurants, Vic & Anthony's, Brenner's Steakhouse, Brenner's Steakhouse on the Bayou, Grotto, La Griglia, Oceanaire, Morton's The Steakhouse, McCormick & Schmick's and Willie G's Seafood and Steak House are all part of a group of restaurants that caters to discerning customers who enjoy a distinctive dining experience.
Featured on select Wednesday evenings beginning June 5 through August, this collection of fine restaurants will host "Signature Chef Series", a private and exclusive dining experience hosted by our award-winning executive chefs. Each chef will invent a remarkable dinner featuring their own meticulously crafted, select menu of mouthwatering specialties, along with their individual section of inspired wine pairings. Set in an intimate and inviting atmosphere, each guest will have the opportunity to exclusively engage one-on-one with the Chef and his team, creating an evening of fun, friends and truly exceptional fine dining. Visit www.LandrysSignatureGroup.com for complete menus and pricing information.
Brenner's Steakhouse
Chef Brian Miner
Wednesday, June 5
Reservations: 713-465-2901
Price: $95
Chef Series Menu Highlights: Recognized for its warm atmosphere, personalized service and delicious steaks, Brenner's Steakhouse offers a five course meal and intermezzo that includes a delectable selection of seafood and beef all prepared to perfection with unique flavors including:
Smoked Trout Mousse – apples, English pea blinis and pickled mustard seeds / Terlan Pinot Grigio
Charred Romaine Hearts – parmesan coulis, shaved rhubarb, Texas honey vinaigrette and shallot cracklins / Lemelson 'Thea's Selection' Pinot Noir
Hibiscus Flower and Meyer Lemon Sorbet
Seared Prawns – roasted cauliflower, currant and fennel hash, sorrel and ginger purée and sorghum popcorn / Villa Annaberta Valpolicella Superiore Ripasso
Roasted Veal Lion – pink peppercorn and marrow butter, potato purée and parsnip slaw / Suhr Luchtel Cabernet
Coconut Semifreddo – pineapple orange gelée and cumin meringues / Royal Tokaji
Grotto
Chef Ricky Cruz
Wednesday, June 12
Reservations: 713-622-3663
Price: $95
Chef Series Menu Highlights: Offers a unique Italian dining experience with a lively and casual atmosphere featuring sensational food items. Five courses and an intermezzo paired with wine including:
Gnocchi di Patate Dolci – homemade sweet potato dumplings, stuffed with ricotta and feta, with citrus orange sauce / Stellina Prosecco
Insalata Mandorlata – mixed field greens, tangerines, apples, caramelized almonds, Parmigiano-Reggiano crisps and almond oil vinaigrette / Bertani Due Uve
Branzino al Forno con Cavolfiore – oven-roasted Mediterranean sea bass, served over Parmesan cauliflower and pesto sauce / Ruffino Chardonnay
Gazpacho Sorbet with Tomato Crisp
Cannelloni di Costola – short rib and spinach cannelloni with Barolo wine sauce, served with baby vegetables / Antinori il Bruciato Baby Super Tuscan
Dolci Misto – miniature almond chocolate cannoli, strawberry panna cotta and lemon Napoleon / San Anselmo Moscato
Morton's The Steakhouse
Chefs Frank Lewis & Phuc Luu
Wednesday, June 19
Reservations: 713-629-1946 (Galleria location)
Price: $95
Chef Series Menu Highlights: Known for its remarkable service and reliable experiences, Morton's The Steakhouse presents a five course meal that includes quality ingredients through careful preparation including:
Heirloom Tomato and Goat Cheese Terrine – with baby arugula and aged balsamic / Pommery Rose', Brut, Reims, NV
Five-Spiced Duck Breast Salad – with baby lettuce, orange segments, candied walnuts and pomegranate vinaigrette / Kim Crawford Sauvignon Blanc, Marlborough, 2011
Seared Wild Alaskan Halibut Cheeks – maque choux and caper brown butter / Chalone "Limited Release" Chardonnay, Chalone, 2011
Porcini-Crusted Filet Mignon – port wine demi and oven-roasted maitake mushrooms / Ferrari-Carano "Siena" Red Blend, Sonoma, 2010
White Chocolate Pecan Bread Pudding – bourbon caramel sauce / Taylor Fladgate "10 year", Tawny