Apple refreshes Macs and iOS, unveils iTunes Radio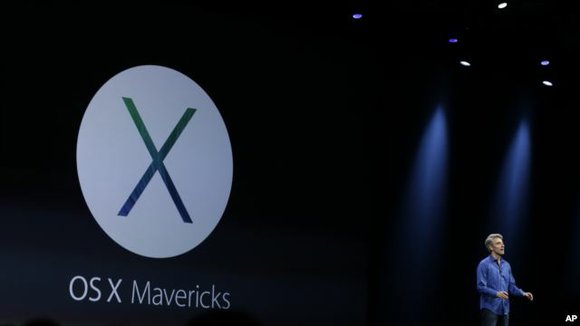 Also Monday, Apple introduced revamped MacBook Airs with "all-day battery life" and offered a peek at the most powerful computer the company has ever made.
Apple Senior Vice President Phil Schiller provided a peek at the new Mac Pro, a desktop that is Apple's fastest computer. In a teaser video, the new Pro looked like a shiny cylinder and, according to Schiller, will double the performance of the current model, launched three years ago.
"Can't innovate any more, my ass," Schiller told the audience in a jab at analysts who have said Apple is being surpassed by companies like Samsung and Google in the rollout of bold new products.
The new Pro will be released this year and will be designed and assembled in the United States, Schiller said
The 11-inch version of the MacBook Air will go from five hours to nine hours of battery life, Schiller said, while the 13-inch version will go from seven hours up to 12. Schiller said the new models will have faster Wi-Fi connections and faster graphic loads.
They began shipping Monday, with the 11-inch Air beginning at $999 and the 13-inch starting at $1,099 (that's a $100 break on the 13-inch).
In a departure, Apple's next Mac operating system will not be named after a cat. Instead, the 10th iteration of OS X will be called Mavericks, named for a popular surfing spot in northern California. (Previous version names have included Mountain Lion, Snow Leopard, Tiger, Lion and Cheetah.)
Among the system's new features will be Maps, previously a mobile-only product, and iBooks, which will let users read books they buy from the App Store on multiple devices.
Other features demoed by Federighi included color-coded tags, a multidisplay setup for more than one screen and integration with Apple TV. He said internal tweaks have been made to make the system faster and to conserve battery life.
The new system will be available in the fall.
In opening the keynote, Cook noted that the company's online App Store has served up 50 billion downloads in its five years of existence. He said there are 900,000 apps in the store, 375,000 of which were designed for the iPad.
"Just a few hundred from those other guys," he said, in an apparent swipe at rival tablets that run Google's Android system and others.
He also said the App Store has 575 million accounts, "more accounts with credit cards than any store on the Internet that we're aware of."