Rep. Reynolds Reviews Texas Legislature Where Public Education was Top Priority
Burt Levine | 6/12/2013, 1:09 p.m. | Updated on 6/12/2013, 1:09 p.m.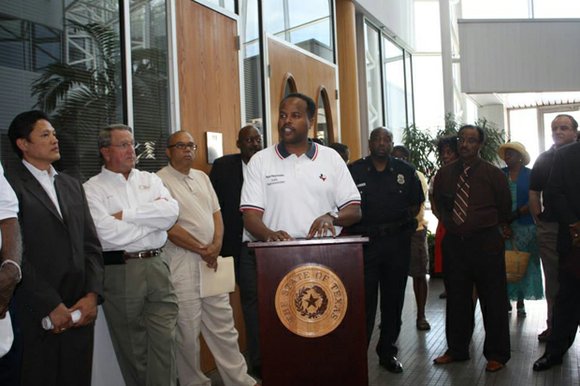 Ron Reynolds is back from his second legislative session, a session he sees as having been more productive for the people of Texas. Reynolds told a packed open house partnered Saturday with US Rep. Al Green and State Sen. Rodney Ellis how exciting it is to represent one of America's most diverse and fastest growing counties.
Reynolds, Fort Bend's first African American Rep., since Reconstruction, said his first session two years ago was disappointing with $5 billion cut from public education and other "horrible" hits to Texas but this time he worked tirelessly and succeeded in putting public education first.
"I'm never for raising taxes. I'll work to stop new taxes as long as I'm a representative. I also believe public education is the great equalizer that must be funded and held accountable to help all Texans achieve upward mobility without regard to where they begin," said the rep. that himself attended Fort Bend public schools Blue Ridge Elementary, Christa McAuliffe Middle and Willowridge High School before completing bachelor, masters and doctorate degrees at Texas public universities Texas Tech University and TSU.
He said two years ago he voted against the state budget which is the most important issue in the legislature but this time he voted for it particularly because of public education issues that will help restore student teacher ratios, cut the number of tests students are required to take to graduate and help students look to vocational training instead of only college preparation. He's especially proud of his bill to put Willowridge High School in Houston Community College's System to access students there community college at in district tuition.
It remains his goal to get single district maps to FBISD because he believes it is wrong a school district that is now less than 20 percent white should only have one minority on its seven member school board.
Reynolds is also proud of the work he did to involve more minorities in public contracting and employment in Texas. His goal is to get the state and every government at every level to work more to hire local firms from here in Texas to keep Texas tax money here in Texas.
"We made great strides this session in our efforts in civil rights from the Lillie Ledbetter equal pay for equal work act to help women with equal rights in Texas and the Michael Morton Act that will now require better access to justice for those convicted of crimes in Texas," Reynolds said about Lille Ledbetter and Michael Morton both best known for their sacrifices for all.
"Ledbetter was kept from being paid what men were paid at her company and Morton was imprisoned 10 years for a crime he didn't commit. It's because of them we have a more just Texas but more work remains," he said about issues from redistricting to allowing casinos in Texas that he believes are crucial to Texas' future.