Coca-Cola and BET Networks Give Teens an Ahh-mazing Summer
Style Magazine Newswire | 6/13/2013, 11:59 a.m. | Updated on 6/13/2013, 11:59 a.m.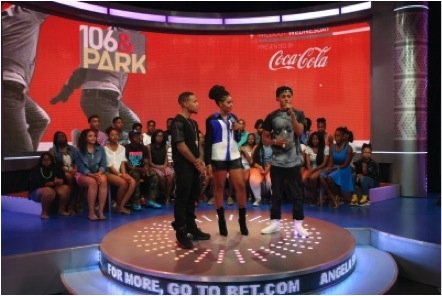 Ahh, it's summertime. Coca-Cola and BET Networks are heating up the season for talented teens by offering an exclusive opportunity to perform with young hip-hop star Diggy on the No. 1 video countdown show on TV.
For the fifth year, Coca-Cola will be the exclusive on-air and digital sponsor of BET Network's highly popular "106 & PARK's Wild Out Wednesdays," setting the stage for amateur artists to showcase their talent in a competition to ultimately win the title of All-Star Series MVP. The 10-week program started yesterday and runs through September 30 with the winner receiving a once-in-a-lifetime opportunity to perform live with Atlantic Records award-winning artist Diggy on the "106 & PARK" stage in the fall.
"Coca-Cola, music and happiness have forever been entwined," said Lauventria Robinson, Vice President, Multicultural Marketing, Coca-Cola North America. "Through our long-standing partnership with BET Networks, we give teens new and innovative ways to bring to life their enthusiasm and excitement around music, and the ultimate rewards and feelings of satisfaction it brings to them."
'"106 & PARK is the most popular music video countdown show on cable and will be one of the most creative and unique platforms for Coca-Cola to help teens showcase their talents by performing on the hottest stage this summer," said Raymond Goulbourne, Executive Vice President of Broadcast Media Sales at BET Networks. "We are proud of our strong partnership and mutual focus on giving amateur African-American artists a chance to advance their dreams and ambitions."
The BET Networks partnership is part of the Coca-Cola "AHH Effect," a multidimensional interactive digital campaign that showcases all of the qualities of Coke by bringing to life 61 dimensions of "AHH" through a range of digital experiences, from games and films to GIFS. The goal of the campaign is to capture the happiness, satisfaction and delicious refreshment that one experiences after drinking an ice-cold Coke.
"I'm my happiest when making music and I know first-hand the excitement of performing on the set of '106 & PARK,'" said Diggy. "I'm thrilled to partner with Coca-Cola and BET Networks to help inspire young performers to become the best they can be and to enjoy the sense of accomplishment they feel when their hard work and talent pays off. That's the 'AHH' feeling."
Additionally, Coca-Cola will give one lucky winner a trip to New York City to attend the "106 & PARK" taping and see Diggy perform in September. Teens can head to www.jetsetwithcoke.com to enter, and follow along with the program on Twitter using the hashtag #jetsetwithcoke. Teens can also learn more about the "The AHH Effect" by visiting www.ahh.com.

About The Coca-Cola Company
The Coca-Cola Company http://www.coca-colacompany.com/index.html (NYSE: KO) is the world's largest beverage company, refreshing consumers with more than 500 sparkling and still brands. Led by Coca-Cola, the world's most valuable brand, our Company's portfolio features 16 billion-dollar brands including Diet Coke, Fanta, Sprite, Coca-Cola Zero, vitaminwater, Powerade, Minute Maid, Simply, Georgia and Del Valle. Globally, we are the No. 1 provider of sparkling beverages, ready-to-drink coffees, and juices and juice drinks. Through the world's largest beverage distribution system, consumers in more than 200 countries enjoy our beverages at a rate of more than 1.8 billion servings a day. With an enduring commitment to building sustainable communities, our Company is focused on initiatives that reduce our environmental footprint, support active, healthy living, create a safe, inclusive work environment for our associates, and enhance the economic development of the communities where we operate. Together with our bottling partners, we rank among the world's top 10 private employers with more than 700,000 system associates. For more information, visit Coca-Cola Journey at http://www.coca-colacompany.com, follow us on Twitter at twitter.com/CocaColaCo or check out our blog, Coca-Cola Unbottled, at www.coca-colablog.com.