Coca-Cola and BET Networks Give Teens an Ahh-mazing Summer
Style Magazine Newswire | 6/13/2013, 11:59 a.m. | Updated on 6/13/2013, 11:59 a.m.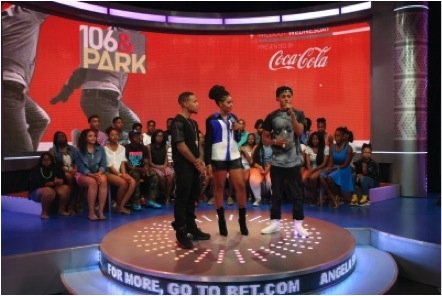 About BET Networks
BET Networks, a subsidiary of Viacom Inc. (NASDAQ: VIA, VIAB), is the nation's leading provider of quality entertainment, music, news and public affairs television programming for the African-American audience. The primary BET channel reaches more than 90 million households and can be seen in the United States, Canada, the Caribbean, the United Kingdom and sub-Saharan Africa. BET is the dominant African-American consumer brand with a diverse group of business extensions: BET.com, a leading Internet destination for Black entertainment, music, culture, and news; CENTRIC, a 24-hour entertainment network targeting the 25- to 54-year-old African-American audience; BET Digital Networks - BET Gospel and BET Hip Hop, attractive alternatives for cutting-edge entertainment tastes; BET Home Entertainment, a collection of BET-branded offerings for the home environment including DVDs and video-on-demand; BET Event Productions, a full-scale event management and production company with festivals and live events spanning the globe; BET operates in the United Kingdom and oversees the extension of BET network programming for global distribution.
About 106 & PARK
A powerful presence in the music and entertainment industry, "106 & Park" has been the #1 music variety show on cable for the past 15 consecutive quarters among adults 18-49, according to the Nielsen Company, and has been integral in launching the careers of numerous hip-hop and R&B artists. "106 & PARK" has become THE destination for today's brightest stars including Denzel Washington, Madonna, Beyoncé, Jay Z, Diddy, Rihanna, Chris Brown, Queen Latifah, Will Ferrell, Lady Gaga, Halle Berry, Jennifer Lopez, Kanye West, Justin Timberlake, Lebron James, 50 Cent, Sienna Miller, Will Smith, Drake, Katie Holmes, TreySongz, Kirk Franklin, Snoop Dogg, and many, many others.
About Diggy
Daniel "Diggy" Simmons had the hip-hop community on the edge of their seats, calling him the "Next Hottest Thing." In 2010, Diggy teamed up with video director Phil The God to create a viral video that caught the attention of the entire music world. "Flow Stoopid," a freestyle track over Nas' "Made You Look," received instant co-signs from rap heavy hitters ranging from Lupe Fiasco and Kanye West to Common, Quest Love, and Talib Kweli and quickly became an instant viral sensation. In March 2010, Diggy inked a deal with Atlantic Records, and began on the road to a successful rap career, establishing himself in the lineage created by his father, Rev. Run and uncle, Russell Simmons. After releasing his debut single, "Copy, Paste" in May 2011, which straight to the top of the "106 & PARK" countdown, the world is eagerly awaiting what's next as he puts the finishing touches on his debut album. From being named a member of XXL's Freshman Class in 2011, to his first BET Awards nomination in the "Young Star Award" category to taking the stage "LIVE" at the 2011 BET Awards Pre-Show, Diggy is undoubtedly the most talked about and sought after young rap superstar. In October, Diggy was nominated for "Rookie of the Year" at the 2011 BET Hip Hop Awards. Diggy was also honored with the "Best New Artist" award at the 2011 NAACP Image Awards. In March 2011, Diggy released his debut album "Unexpected Arrival," which was supported by a string of consecutively sold out tours. For more information on Diggy, please visit www.diggyworld.com, www.twitter.com/diggy_simmons and www.facebook.com/diggysimmons.