Juneteenth Parade Brings Joyous Celebrations of Freedom
Burt Levine | 6/18/2013, 3:05 p.m. | Updated on 6/18/2013, 3:05 p.m.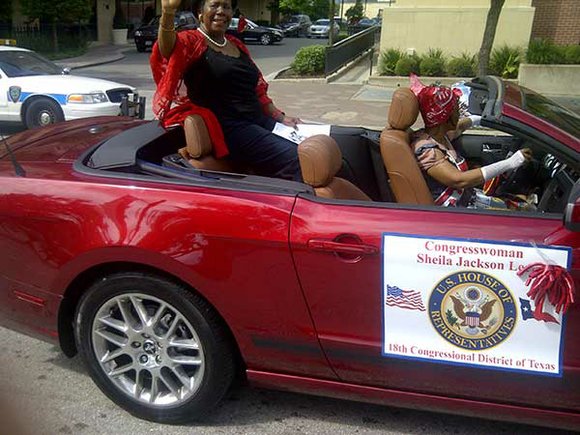 Juneteenth, also known as Freedom Day or Emancipation Day, is celebrated with parades and barbecues, public band performances, festivities and fireworks throughout out the region and across the country. Saturday, June 15 crowds of children and their parents, elected officials and candidates for public office covered downtown streets for a joyous annual parade.
"Though President Lincoln issued the Emancipation Proclamation September 22, 1862, with an effective date of January 1, 1863, it had minimal immediate effect on most slaves' day-to-day lives. Juneteenth commemorates June 19, 1865 when Union General Gordon Granger and 2,000 federal troops arrived on Galveston to take possession of Texas and enforce its slaves the emancipation. Texas was the final state have its slaves set free and for that we triumphantly are on this parade route," , said businessman and Houston City Council candidate Michael Kubosh who commented while greeting friends and family along the parade that the US Constitution should have made all Americans free but because it failed to live to up to the high standards of its calling its error was fixed Juneteenth and by moral patriots' actions from Dr. Martin Luther King to President Obama throughout America's history to this day.
"What we celebrate is the news of the abolition of slavery in the United States finally reached Texas. We celebrate freedom for all Texans. When one is denied freedom then all are denied freedom. Juneteenth is a holiday every Texan and every American ought to celebrate because justice denied to anyone is justice denied to everyone," he said.
US Congresswoman Sheila Jackson Lee was in a convertible just ahead of Kubosh. She said this day is the day when we think about how communications have changed our lives too because it would not take two and half years now for the loud clarion call of liberty to reach Texas shores in today's world. Jackson Lee said freedom must be secured and celebrated every day and in every generation to ensure the full beauty of its bounty.
"We live in a country that while it is not perfect it does strive every day to form a more perfect union. We live in a country where freedom for all is the goal that we are getting closer to each and every day," she said and praised those fighting for our freedom in the military today.
Houston City Council Member Rev. Andrew C. Burks, Jr. walked the parade in shorts and a Houston Astros Hat soaking in the sun and shaking hands along the way.
"Before being elected to city council I was in the telephone communications business. In the 1860's I know folks, partly slaves, did not have phones to know they were now free. What we need to celebrate is us having gone forward now to where knowledge is liberty," Burks said.
"This hammers home that information is freedom," he said before running to catch up with the parade float ahead of him.